Naza Kia Sdn Bhd (NKSB), the official franchise holder for the KIA marquee, unveiled a face lifted model of the popular Picanto. As the best selling Kia model, with over 867,553 units sold worldwide, the restyled Picanto offers customers a more contemporary and stylish body kit.
The New Picanto price starts at RM44, 500 on-the-road for the LS – standard specification model or RM 46,800 on-the-road for higher specification EX. It features a new body kit, sporty new bumpers, fenders and front grille. With new head and tail lights and spoiler, the interior also receives an upgrade with a newly installed universal serial bus (USB) function.
Performance, efficiency and minimal emissions come as standard with the Picanto. The 1.1 SOHC gasoline engine is highly efficient and lightweight and offer dynamic performance and excellent km/l fuel consumption economy, which makes Picanto the perfect city car. The 1.1 -litre engine delivers 64 ps at 5,500rpm and 9.8kgm of torque at 2,800 rpm, making the Picanto one of the most powerful cars in its class and capable of 0 to 100km/h 0-100kmh in 15.1 second. The 4-speed automatic transmission is designed to finely control the suppy of oil to allow more effective changes of speed and reduced engine noise.
Dare to be individual with the new Picanto – a smart little package that's big on space, style and fun. This little number is equally at home when you want to fill up with shopping bags as it is when friends pile in for a lift. You can rely on the Picanto, as you discover a versatile and pratical compact car that delivers more then you'd expected.
From the outside, the new Picanto is smart, stylish compact car, With five doors, you'll be surprised by how spacious the Picanto really is. It's been designed to provide a surprising amount of interior space for a car of its size and to make sure that all that space is as versatile as possible.
Your friends will appreciate the class-leading dimensions as they join you on your city trips or holiday travels, and even if your latest purchase is a bit bulky, the Picanto's flexible interior with folding rear seats is up to the challenge.
Because you care about more than just style, the facelifted new Picanto is designed to look after you and those around you. It is equipped with numerous active and passive safety measuress to safeguard all passengers.
Dual front airbags are standard on all Picantos' for both driver and passenger. Three-point seatbelts are fitted to front and all rear seats. Fade-free ventilated disc brakes on the front wheels with drum brakes on the rear mean fortified and safer driving.
NAZA KIA  NEW PICANTO FACELIFTED SPECIFICATION LS EX
Seating Capacity 5                    • •
Body Type
 5-door hatchback                   • •
Engine
 Fuel Type Unleaded              • •
Capacity 1.1L SOHC,
Inline-4 cylinders,
12 valves                                    • •
Displacement
(cc) 1,086cc                             • •
Bore x stroke
(mm)  67 x 77                         • •
Compression ratio 
10.1                                             • •
Full Tank capacity 35L        • •
Performance
 Fuel consumtion
(km/L) 17.2
(at constant 100 km/h)    • •
Maximum power
(ps @ rpm)  64 @ 5,500  • •
Maximum torque
(kg.m @ rpm)9.8 @ 2800 • •
Maximum speed
(km/h) 144                             • •
Acceleration
0 – 100 km/h
(seconds)  17.9                     • •
Transmission
Type 4-speed Automatic • •
Suspension
 Front McPherson
Strut & stabilizer                • •
Shock absober –
oil & coil spring                   • •
Rear Torsion
Beam axle                              • •
Shock absober – oil            • •
Exhaust System
 Emission control
system Euro-II (1996)     • •
Single Muffler                      • •
HVAC
 Cooling System Manual
air-conditioning                 • •
Brake
 Booster 8″ single               • •
Front Ventilated disc       • •
Rear Drum                            • •
Airbag  Dual: Driver
& Passenger airbags           – •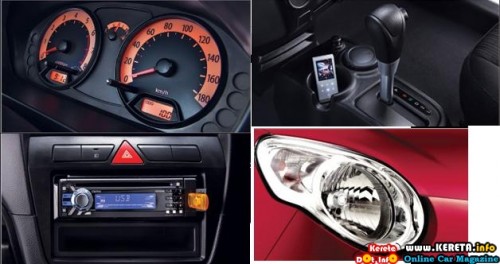 INTERIOR                         LS EX
Trim colour  Black              • •
Center & Floor console 
Glove box
withoutlocking                    • •
Storage slot/tray 
On facia: 1pc
(under audio unit)            • •
 
On facia:
Driver side (1pc)                • •
On facia:
Passenger side
(1pc – on top
of glove box)                      • •
On center console:
Front (1pc)                         • •
Ashtray Front
(removable can type)   • •
Cup holder 
Center console                • •
Cigar lighter 
Front
(without illumination) • •
Instrument panel
 Type Analog
(2-meter type
w/odometer display)    • •
E/G RPM Meter                • •
Clock Digital type
(in odometer display)  • •
Steering
 Hydraulic
power steering                • •
Steering column
tilting adjuster                • •
Package tray
 Rear Thermoform type  • •
Carpet Mat
 Needle punch                  • •
Seat
 Material Fabric                • •
Front Headrest
adjuster (up & down)   • •
Sliding adjuster              •  •
Back pocket
(passenger&driver side)• •
Under tray
(passenger side)             • •
Reclining adjuster         • •
Rear 1-piece Bench
type (fold & dive type)• •
headrest adjuster
(up & down)                     • •
Seatbelt
 Front ELR type             • •
Rear Sides – ELR type  • •
Center – Lap type           • •
EXTERIOR                     LS EX
Wheel & Tyre
 Running tyre-
size 165/60 R14            • –
175/50 R15                     – •
Running tyre Steel
wheel -14″ &
 wheel cover                   • –
Alloy wheel –
15″ & center cap             – •
Spare tyre size 
165/60 R14                    • •
Spare tyre 
Steel wheel – 14″            • •
Glass
 Winshield,
Door glass,
Backlite glass Tinted    • •
Heated back-lite glass • •
Bodykit
 Rear Spoiler                    – •
Outer Mirror
 Black material colour • –
Body colour
(with black base,
holder & rim)                    – •
Side Mirror adjuster 
Automatic Controller   • •
Mirror retractorManual • •
Side repeaters 
Electric Control
with heated                          • •
Hooks
 Towing Hook &
Lashing Hook                      • •
Dimensions LS EX
 
 Lenght (mm)    3,495 • •
Width (mm)      1,595 • •
Height (mm)     1,480 • •
Wheelbase (mm)  2,370 • •
Thread Front (mm) 1,400 • •
Thread Rear (mm)  1,385 • •
Kerb Weight (kg)  941 • •
Colour LS EX
 
 X28 Black • •
R03 Volcanic Red  • •
A58 Diamond Silver  • •
W02 Speed White • •
 
 
 
-3 star NCAP CRASH RATING
-REINFORCEMENT BODY STRUCTURE
-REINFORCEMENT SIDE IMPACT PROTECTION
-SAFETY TINTED 5 MIL WITH 7 YEARS WARRANTY
                     New Kia PICANTO 1.1 LS (A) PICANTO 1.1 EX (A)    Price list
Peninsular Malaysia             RM               RM
Private Registration       44,500.00            46,800.00
 
Company Registration  45,022.10            47,324.70
 
   
 
 
Kuching
 
Private Registration       46,652.90            48,961.80
 
Company Registration  46,757.80            49,069.60
 
   
 
 
Miri 
Private Registration      47,137.20            49,461.80
 
Company Registration  47,279.00            49,569.60
 
   
 
 
Sabah
Private Registration       47,673.20            49,961.80
 
Company Registration  47,779.00            50,069.00
Please follow and like us: