Audio System in a car or vehicle is a very subjective matter and a very hard to determine which one is better unless you really knows what and how to fit in your car and you are already have the experience in the field of audio competition. There are so many factors that contributes to the perfection of audio sound system or in car entertainment ICE.
EXTREME PERFECT AUDIO SYSTEM
The most important thing is of course the sound balance and clearness. You must have the bass, mid bass and high pitch sound mixed very well in an audio system to make the sound clear, loud and nice to hear. We just want to share one of the extreme modification of audio system in a vehicle made by the audio shop in Shah Alam Selangor.
It is actually a humble old van which is Toyota LiteAce. From the exterior, it looks like nothing special on the van which most of us saw it at pasar malam nearby. But when you open the door, you'll be amazed with the cabin interior which is full of audio system and futuristic finishing inside the van. With 10 subwoofers! More than 12 speakers! Seriously, i was shocked to see that.
New Sound Quest Sdn Bhd, the well known audio system expertist in Malaysia which has won several award in many audio system competition owned by Mr Kenny who is one of the well known judges of audio competition is located in Seksyen 23 Shah Alam.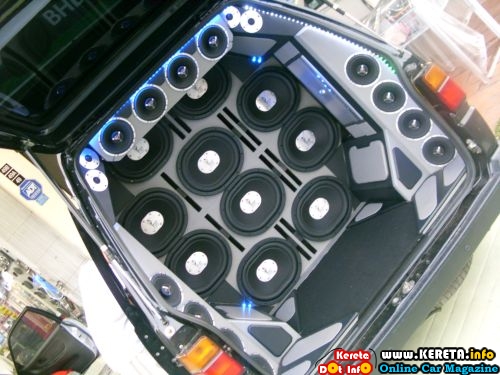 Many factor contributing to nice sound system according to them which is not only the originality of the speakers and all audio compenents, it is also depends on how you locate all the speakers, the material used and the proper mixing of audio component.
Basic audio system which comprise of Subwoofer, Speakers, power amplifier, pre amplifier, audio player head unit, wiring and capacitor plays different role to give best sound system in car. Looking at the extreme audio specification inside the van, it has all complete set of basic audio component but with additional of the proper mounting, multiple component like speakers and woofers and futuristic design of interior cabin just for the audio system.'
 The head unit audio MP3 player from alpine with the pre amp beside it. What a very nice interior design added with futuristic concept and lighting.
here is the short video of the sound system demonstration:
[youtube:http://www.youtube.com/watch?v=qZcXWNUEEug 425 344]
Please follow and like us: