A wide body on a small compact car. This modified Perodua Viva in red has all the complete set of custom bumper and skirting. When we talk  about wide body, for sure this Viva needs some spacer to add the width of wheel track or the owner needs a wide rims to fit in the wide fender. Added spacer will give bad effect on your car handling and safety. The modified viva follows a bit of design characteristic from Evo X from the front. There is Ganardo Side mirror to add some sporty look from the outside. In actual fact, modifying your car dimension is illegal as stated by JPJ. But, whatever it is, wide body looks really cool.
EXTREME CUSTOM WIDE BODY KIT VIVA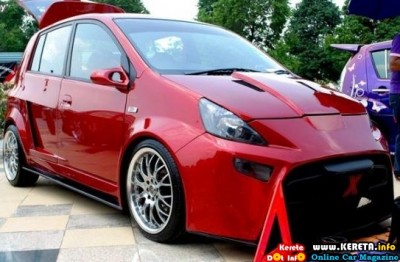 Rear part with diffuser, double tail pipe.
–
Bodypart consist :
-front custom bumper with bumper signal
-front custom bonnet with air-vents
-a pair of custom front fender with arch and diamond fender signal
-rear custom bumper
-rear custom bonnet
-rear custom lamp cover
-custom YRV spoiler
-custom-made all doors
-custom rear fender wide-body
-custom widebody side spoiler with diffuser.
Please follow and like us: