It is not an Estima, it is actually a BYD M6 made in China which really looks like Toyota Estima / Previa! You can see the design curves from front to rear. This is what I found quite "shocked" when visiting recent China Autoshow. There are a few car models in China which looks like another car and this is one of them. I think they can make their own design better than this. Not sure why they prefer to make it looks like other car. Browse for more pics below.
COPY OF TOYOTA ESTIMA / PREVIA? ITS CHINA'S BYD M6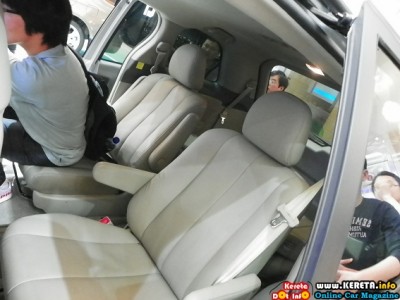 The M6 is BYD's first MPV and has gained a lot of attention due to its likeness to the Toyota Previa MPV look alike that is also sold in China. BYD initially launched four different models of the M6 and these are:
?2.0L Basic – 139,800rmb (RM70k)
?2.0L Luxury – 150,800
?2.4L Basic – 177,800
?2.4L Flagship – 239,800 (RM120k)
   
The M6 measures (LxWxH) 4820mm x 1810 x 1765mm, and has a wheelbase of 2950mm meaning it is big enough to carry its intended cargo of 7 people, although the smaller engined vehicles may struggle under extreme load. The 2.0L engine is BYD's own design whilst the 2.4L is an off the shelf purchase from Mitsubishi, however both are upto Chinese5 emissions specifications. The 2.0L offerings are only available with a 5 speed manual but the larger 2.4L will come with a 5 speed automatic gearbox
Previously BYD have only concentrated on cars priced in the 100,000rmb (RM50k) area, the M6 is a step into the semi luxury market that they have yet to conquer. The way BYD took over the compact car segment with the F3 is likely to be a major worry to MPV makers.
Please follow and like us: