2012 HONDA CIVIC SI CONCEPT
The Honda Civic Si Concept coupe and Honda Civic Concept sedan made their world debuts at the 2011 North American International Auto Show, ninth-generation 2012 model set to go on sale this spring.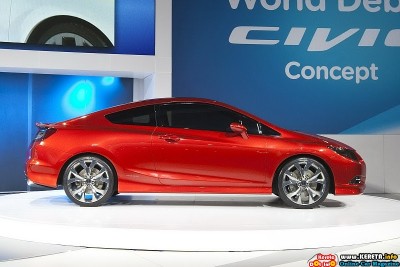 The redesigned Civic builds on this legacy and promises to be the best Civic yet. "The Civic is known for providing a balance of 'just-right' packaging, fun-to-drive character and outstanding fuel economy, at a price that even first-time buyers can afford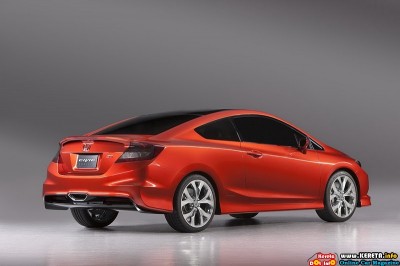 With the widest array of engine choices available in its class, the 2012 Civic lineup intends to meet the needs of an increasing group of compact-vehicle buyers with a renewed vision of a "Civic for all people." The diverse vehicle range includes a sedan and a coupe with conventional gasoline models, two sporty "Si" performance versions, along with one hybrid and a natural gas alternative-fuel variant.
The exterior styling of both Honda Civic concept models showcases the sedan's and coupe's clean-yet-powerful lines with steeply raked windshields, wide stances and pronounced character lines along the profile. The lower character line on both models broadens toward the rear fenders to enhance the dynamic feeling of forward energy. The front fender surface treatments form a complex, three-dimensional look to further enhance the image of sophistication and structural depth against the deeply set headlights.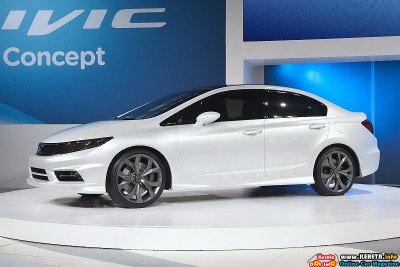 2012 HONDA CIVIC
The Civic's family of engines with "intelligent" Variable Valve Timing and Lift Electronic Control (i-VTEC) technology become even more fuel efficient for 2012. Building on its emphasis on fuel-economy, most upcoming Civic models receive Honda Eco Assist technology. The 2012 Civic is the first U.S. Honda model to employ Eco Assist technology in a gasoline-only powered vehicle.
Safety, the 2012 Civic continues to emphasize safety and is anticipated to score well in both the federal government's New Car Assessment Program (NCAP) and the Insurance Institute for Highway Safety (IIHS) vehicle evaluations. All 2012 Civics are equipped with Vehicle Stability Assist (VSA) as standard equipment. The Civic also continues to provide Honda's exclusive and innovative Advanced Compatibility Engineering (ACE) body structure for frontal collision energy management.
Please follow and like us: