New Topic By Opie
Thank you opie for sharing this info. For any one who wants to contact or view  or buy the changan chana era at any outlets or showroom, below are the details of changan berjaya contact information. Where to find the showroom? The main HQ is at Petaling Jaya. Herewith we attach the map to changan berjaya.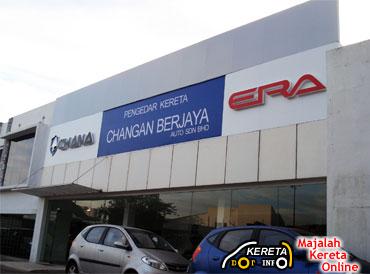 About Changan Berjaya Malaysia
Changan Berjaya Auto Sdn Bhd, a 51% owned company of Berjaya Group Berhad was licensed by Chang'an Automobile Co. Ltd., China, one of the largest manufacturer and assembler of passenger vehicles, commercial vehicles, bus and special purpose vehicles in China, to manufacture, assemble and sell the CHANA brand of motor vehicles in Malaysia.
CONTACT CHANGAN BERJAYA MALAYSIA FOR CHANA ERA SHOWROOM & SALES AGENT
Changan Berjaya Auto Sdn Bhd
Lot 3, Jalan 225, Section 51A,
46100 Petaling Jaya,
Selangor Darul Ehsan,
Malaysia.
Tel : +603-7954 1188
Fax : +603-7955 1189
Business Hours:
Weekday : 9am – 7pm
Weekend & public holiday : 10am – 4pm
NORTHERN REGION (Kedah) map
Dealers Person in Charge State Status
Daya Utara Sdn Bhd (495941-U)
2179, jalan Tunku Abdul Rahman,MK
Mergong, 05150, Alor Setar, Kedah
Tel: 04-7301111 Fax: 04-7322110
 Haji Haron Bin Wan Hamid
012-4824299
013-34310699 -Kak
[email protected]
Megatama Enterprise (AS0181553)
N0 88 KM2, Kelibang, Mukim Kuah
07000 Langkawi, Kedah
Tel – 04-9663387 Fax – 04 9663387
 Mr. Jeffrey Khoo Ah Wa
012-4338833
[email protected]
Intensive Dynasty Sdn Bhd
( 763027 -W)
Ringan Bakar arang
08000 Sungei Petani, Kedah
Tel: Fax : 04-6443806
 Mr C.K. Goh
017-4185511
[email protected]
 
       
NORTHERN REGION (Penang) map
Dealers Person in Charge State Status
PG Car Centre Sdn Bhd ( 433282-A )
12, Jalan Majih Negera
1160 Penang
Tel: 04-8273333 Fax-8289769
 Mr.Goh Chuan Kiong
012-4185511
[email protected]
       
NORTHERN REGION (Perak) map
Dealers Person in Charge State Status
Weng Fatt Auto Sdn Bhd (716320-H )
205 Jalan Raja Permaisuri Batnun (Jalan Kampar )
30250 Ipoh , Perak
Tel :05-2540992 Fax:052540996
 Dato' Cheng
019-5555209
019-5572118 Chong
[email protected]
[email protected]
CENTRAL REGION (Kuala Lumpur) map
Dealers Person in Charge State Status
KASB Transport Sdn Bhd (134914-H)
Lot 14 Jalan Pahang,
53000 Kuala Lumpur
Tel: 40225828
 Mr. KC.Tan
016-3309837
[email protected]
Power Genius Sdn Bhd (351547-U)
1 USJ 9/3B UEP Subang Jaya
47620 Subang
 Mr. Khoo Kah Jin
019-9509988
[email protected]
G-Force Auto Sdn Bhd (841976-P)
No 42 Ground Flr, Jalan 2/23A,
Taman Danau Kota, Setapak,
Off Jalan Genting Klang,53100 K.Lumpur
Tel:41422528 Fax: 41422589
 Mr. Lim Keat Min
012- 2383182
[email protected]
       
CENTRAL REGION (Selangor) map
Dealers Person in Charge State Status
Automotive Performance Development Sdn Bhd (831379-A)
N044. Jalan Puchong Mesrai
71/2 mile Jalan Puchong,58200
Kuala Lumpur
Tel: 80757953 Fax : 80757940
 Mr.Victory Lau
012- 3838850
[email protected]
LKH Motor Company Sdn Bhd
(449252-U)
No1 Jalan SS2/3
47400, Petaling Jaya
Tel: 78768866
 Mr. Dave Lim
012-3981022
[email protected]
[email protected]
Gandasuri Sdn Bhd (631507-P)
No 45, Jalan Tiara 2B Bandar Baru Klang
41156 Klang , Selangor
Tel ; 33426645 Fax: 33451670
 Mr. Leslie Lee
012-2016226
[email protected]
Bintang Cahaya Auto Sdn Bhd
(834542-A)
 Mr.Simon Jeya
012-6346688
[email protected]
       
SOUTHERN REGION (N. Sembilan) map
Dealers Person in Charge State Status
CE Distributions Sdn Bhd
Lot 16877-16882, Jalan Tun Dr. Ismail,
70200 Seremban, Negeri Sembilan
Tel: 06-7653300 06-7653302
 Mr. Raymond Chew
019-6610198
[email protected]
       
SOUTHERN REGION (Johor) map
Dealers Person in Charge State Status
Ang Trading & Motor Credit Sdn Bhd
(30303-U)
No 9 Jalan Mohd Malleh
83000, Batu Pahat, Johor
Tel: 07-4342626
 Mr. Ang Chai Hian
012-6820888
[email protected]
[email protected]
Ang Trading & Motor Credit Sdn Bhd
(30303-U)
N0.33,34 & 35 Jalan Sulaiman
84000 Muar, Johor
 Mr. Ang Chai Hian
012-6820888
[email protected]
Speedway Motor Credit Sdn Bhd
(16985-D)
149, jalan Perisai, Taman Sri Tegrau
80050, Johor
Tel: 07-3334995 Fax:07-3341216
 Mr. Thomas Leong Yi Shan (E.D)
012-7792288
[email protected]
Yee Fatt Motor Enterprise(SGT)
(688142-D)
161-A Jalan Abdullah,Pekan Jabi,
Segamat, johor
Tel: 07-9323688
 Mr.Chan Kim Ming (Chris)
019-3825611
[email protected]
KLF Motor Sdn Bhd (172949-H)
N0 23, Jalan Ros merah 2/10, Taman Johor Jaya,
81100 Johor Bahru, Johor
Tel:07-3546424 Fax: 07-3546425
 Mr. Foong Chow Wah
012-7223155
[email protected]
Ass. Workshop
 
J.B Southern Motor Sdn Bhd
91. Jalan Dato sulaiman, Taman Century
Tel: 07-3345666 Fax: 07-3330562
 Mr. Jefrey Chin
019-7783833
[email protected]
Kulai Speed Auto Service Sdn Bhd
(463577-M)
Lot 7318, Jalan Air Hitam,
Batu21, 81000 Kulai Johor
Tel: 07-6633777 Fax-07-6632777
 Mr. Lum Chen Fook
019-7111777
[email protected]
       
EASTERN REGION (Pahang) map
Dealers Person in Charge State Status
Kuantan Motor Sdn Bhd (21315-A)
B-2592,Jalan Berserah
25300 Kuantan, Pahang
Tel:012-9280602 Miss Kong, 012-9282733
 Mr. Kong Sin Hing
019-9862626
[email protected]
Kaki Auto Sdn Bhd
No1A Jalan Tan Sri Yahay
28000 Temeloh Pahang
Tel : 09-2969308 Fax-09-2967308
 Mr. Ong Kok Feu
019-9863308
[email protected]
 
       
EASTERN REGION (Terengganu) map
Dealers Person in Charge State Status
Duta Automobile
768, Losong Haji Mat Shafie
21000, Kuala Terengganu, Terengganu
Tel:012-9280602 Miss Kong, 012-9282733 En.Ahamd Termizi Bin Muhammad
019-9343546 K. Terengganu
      
EASTERN REGION (Kelantan) map
Dealers Person in Charge State Status
BSH Automobile Sdn Bhd
3825, Jalan Hamzah, Kota Bharu
15050, Kelantan.
Tel : 09-7441846 Fax: 09-7481846
 Mr. Goh Kim Leong
019-9804782
[email protected]
EAST MALAYSIA (Sabah) map
Dealers Person in Charge State Status
Angkatan Hebat Motor Sdn Bhd
Jalan Lintas Khimat,
88450 Kolombong,Kota Kinabalu,Sabah
Tel: 088-266663 Fax: 088-389272
 Mr.Henry CC Hing (G.E.D)
016-8333339
[email protected]
 
Please follow and like us: