SUV, Sports Utility Vehicles usually have limited design ideas and looks boring on the interior and exterior. We have not many choices to buy a SUV. But in the future, the SUV are going to be more hot and sexy with the new design concept pictured by artists and car designer through their concept SUV sketches. Here we would like to share some of the images of SUV Concept.
CONCEPT SUV DESIGN IDEAS – FUTURISTIC SUV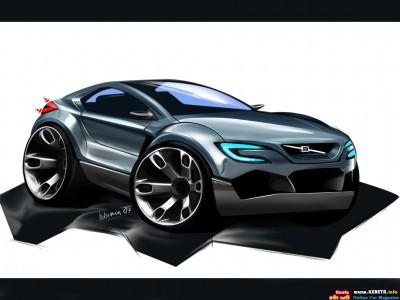 Above is the concept SUV design idea from Bobi for Volvo SUV which is inspired by Nissan concept design.
The real 
HongQi (Chinese for Red Flag) is the premiere division of Chines car maker FAW Groups and at the Beijing Auto Show presented this quite interesting concept, the HongQi SUV Concept. It's quite surprising for a Chinese producer to come up with such a great looking concept, however, considering that the production version won't be available until at least 2010, we'll have to wait and see that before we make any other remarks.
The concept's front fascia features an evolved version of Red Flag's signature grille with the addition of large vents and the car will be powered by FAW's advanced V12 engine, which will also equip the HQE limousine. FAW is very proud of this engine, which features an advanced combustion system, full aluminum light weight design, optimized fuel economic efficiency and lower emissions. This engine will also lay the foundations for a V6 and a V8 engine to follow.
Extreme design of Concept SUV
–
As we can see on these first drawings of the concept, Geely SUV has a spectacular design. It will be in competition with cars like Ford Kuga or VW Tiguan. It is said that this concept will benefit of a hybrid motorization.
The concept vehicle Dacia Duster came in the picture riding on 21-inch aluminum alloys powered by Renault's 1.5DCi engine. That machine produces 105 hp and 240 Nm of torque, which could get the concept to 100 km/h in about 9.6 seconds when using the six-speed manual. The 4.25 meter long, 1.49 meter high vehicle consumes 5.3 liters of fuel per 100 km, and produces 139 grams of CO2 per kilometer. Adjustability is key to this vehicle, which has a front passenger seat that can hide below the driver's seat to make loading long equipment (bikes, kayaks, etc.) a breeze.
Alfa Romeo SUV concept with the aerodynamic design of sports suv coupe.
Ferrari SUV Concept
First place "Design Trophy 2007" Competition from AUTOZEITUNG
Task: "Create a freetime vehicle for Michael Schuhmacher"
Please follow and like us: