Automatic or Manual Gear Transmission Car? That is most probably the first question when you want to buy a new car. There are many factors affected the decision of choosing auto or manual car. So here we are going to discuss together which one is better. By the way, there still be some advantages and disadvantages using manual or auto transmission.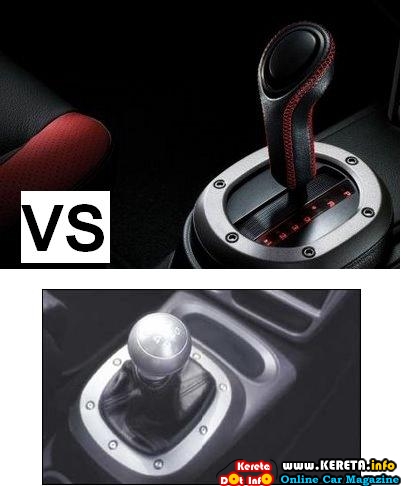 COMPARISON : AUTOMATIC OR MANUAL GEAR TRANSMISSION – AUTO VS MANUAL CAR?
I myself have the experience of using both transmission and just want to share some of the info here. And we are talking about most popular 4 speed automatic transmission vs 5 speed manual transmission currently.
The advantages and disadvantages of manual and automatic transmission:
Why choose manual transmission car?
– More fuel efficient – as it has 5 speed to control the RPM below efficient range of fuel consumption. Average of 10% more fuel efficient than auto gear.
– More control of gears by driver. Can be manually adjusted the RPM range easily to be on the range of best performance of torque and horsepower. All about performance, it is better than auto transmission.
– Easy to maintain and cost efficient. Manual transmission also offered in cheaper price than auto transmission.
– More feel of driving a cars when you like to change the gears manually like race car.
– Can be started by pushing the car and jumper cables when your battery is low and cannot be start. While auto car cannot be started by pushing the car. 
Video of Manual VS Automatic Transmission cars with same car model. The perfomance of manual beats the auto car.
[youtube:http://www.youtube.com/watch?v=Z4WrnT1Qb9k 425 344]
Video of How Manual Transmission Works :
  [youtube:http://www.youtube.com/watch?v=xD03S8Ej4I4 425 344]
=============================================
Why choose Automatic transmission Car?
 – The main point is, easy to drive and have smooth & relax driving style.
– Fast response – gear changes are much quicker, and power delivery is much smoother, making them much better for stop-start style driving.
– Easy to drive in town and heavy traffic jam. No need to be busy and just relax pressing the breaks or shifting auto gears to neutral easily.
– With an automatic transmission, there is always power to the wheels while With a manual transmission, you must push in the clutch and disengage the power from the engine to shift gears.  
– Always in a safe RPM range. The auto transmission will control and select the gear to be in safe RPM range which will prolong your engine life.
– Have an intelligent gear selection. If you need to start while going up a hill. You cannot easily roll back into a vehicle that is close behind you like manual cars.
 – Less distraction. You can concentrate on driving and see the scenery without distraction to shift your gears in any condition.
– Can cope with more advance gearing technologies such as CVT, tiptronic etc. In the future, the manual transmission car will be reduced and the auto gear with several technologies that can overcome the problem of auto transmission now will be produced more.
Video of How Automatic Transmission Works on a car:
[youtube:http://www.youtube.com/watch?v=7Yuycn43QAg 425 344]
Generally, An automatic transmission (commonly "AT" or "Auto") is an automobile gearbox that can change gear ratios automatically as the vehicle moves, freeing the driver from having to shift gears manually. Similar but larger devices are also used for heavy-duty commercial and industrial vehicles and equipment.
While A manual transmission (also known as a 'manual' or 'stick shift') is a type of transmission used in automotive applications. It generally utilizes a driver-operated clutch operated by a pedal or lever, for regulating torque transfer from the engine to the transmission, and a gear-shift either operated by hand (as in a car) or by foot (as on a motorcycle).
So what is your opinion about auto vs manual transmission? Share your experience here! =)
Please follow and like us: