TMJ known as Tengku Mahkota Johor, one of the most important person in Johor Malaysia has many model of cars in his collection especially the most rare and expensive. Not only Sultan Brunei have the big collection of car, the Tengku Mahkota Johor also have his own nice ride in his garage. So here we would like to share some of the picture of hot cars owned by Tengku Mahkota Johor with the special plate number "TMJ" on each of TMJ's cars..
OMG! If i can say the "OMG" repeatedly, i would like to say it on each of my sentence describing the TMJ's ride.. haha.. This is most probably the first Chevrolet Camaro in Malaysia.. very2 nice car..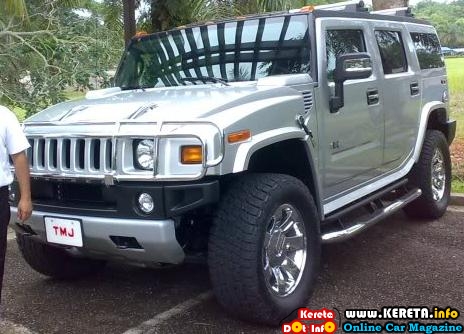 The biggest SUV, Hummer with special modification.
The Hummer is specially custom modified for TMJ by Hummer USA. the price must be double than the actual price of hummer that is already very expensive!
What is that thing? An extremely sports car, the Pagani Zonda on the road owned by TMJ.
Scissors door! Sport + Luxury = Spoxury? hmm…
GMC is a very rare model in Malaysia due to its origin is from USA. I think TMJ's taste is more towards American vehicle. Or maybe TMJ prefer to have a unique car and a very rare model.
Lastly, the Ferrari… which is symbolic to the richness of a person. I believe there are a lot more car model owned by TMJ. Including the special painted Satria neo in pink stylish colour which use few layers of paint to produce special effect on the car finishing by german technology settled by Proton paint specialist here in Malaysia..
Please follow and like us: