The Chery A520 SEDAN already in Malaysia car market by Chery Alado Malaysia. "A5" part of the car's name refers to the model, while "20" means it has a 2.0-liter, four-cylinder engine. While the mechanical underpinnings of the car are based on the existing Seat Toledo-based platform, the sheet metal — designed by Bertone of Italy — is brand-new. The powertrain was developed with assistance from Austrian engine specialist AVL.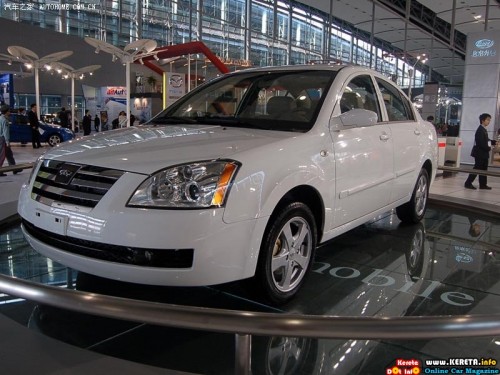 CHERY A520 SEDAN PICTURE + SPECIFICATION + INFO
The Chery A5 is a car produced by Chery Automobile. The Chery A516 has a 1.6L engine, Chery A518 has a 1.8L engine, and the Chery A520 has a 2.0L engine.
Chery Alado Malaysia has launched only the A520 version which carry the power of 2.0 litre engine to compete with other 2.0 litre models such as Honda Civic but with the cheaper price of Chery A520 = RM95,888 only.
The Chery A520 2.0L engine (1.971 cc) produced maximum power of 95 kW (129 PS), maximum torque 180 Nm, and top speed of 185 km/h.
Chery A520 has 5-speed manual & 4-speed automatic
CHERY A520 SPECIFICATION & INFORMATION
A520 Fuel consumption at 90 km/h (Litres/100 km): 7.2 L/100km = 13.88km/L = RM0.1296 per km at RM1.80/Litre petrol (2.0L engine)
Emission class: EURO III
Engine
4 cylinder in-line 16Valve DOHC EMPI
Fuel type: Unleaded fuel
Acceleration 0-100km/h = 13seconds
Brakes
ESP available
ABS and EBD available
Tyre Size = 195/55 R15
Dimensions
Length 4552 mm (179.2 in)
Width 1750 mm (68.9 in)
Height 1483 mm (58.4 in)
There is a gasoline/electric hybrid version.
Weight = 1290KG (kerb) / 1665KG (Gross)
The Chery A5 Also called Chery Elara, Chery Fora, Speranza A520 & TagAZ Vortex Estina
Video Of Chery A520 & Chery Eastar:
[youtube:http://www.youtube.com/watch?v=gjAmWFkaeec 425 344]
This car will be one of the good competitor in 2.0 Litre Sedan car segment. But Chery Alado Malaysia needs to find a way to improve their website that is really lacks of information and need to do the marketing better than before.
Guys, what do you think about this 2.0 Litre sedan Chery A520?
Please follow and like us: