Well this is a good tips for you that will enhance your visibility during raining and save your life. Standard rubber wiper supplied by car manufacturer are really annoying, with inefficient wiping action, unclear windshield, causing your windscreen like sticked with oil etc. Whenever you experience the annoying things that disturb your visibility, please quickly change the rubber wiper to long lasting silicone wiper and never use the rubber type again and again that will cost more money and less visibility in raining.
We really suggest you to change your wiper because it is a really worth for you to invest especially it is related to your life. The price of silicone wiper are not so expensive where you can get it from RM40-RM100 depending on what type and length of the wiper. And it really can last for 2-5 years.
Some silicone wiper company selling those silicon wiper with higher price for lifetime warranty and free service door to door. That seems to be a good deal if you prefer the lifetime warranty. But for me, the RM50 price range of silicone wiper is enough for you to use until even more than 5 years.
 – – – –  – – – –  – – – –  – – – –  – – – –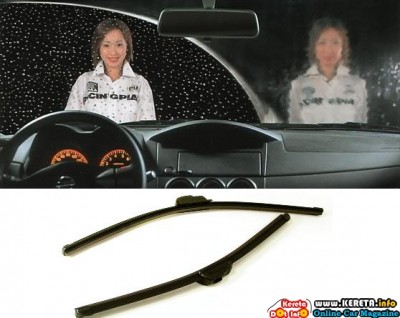 – – – –
CHANGE YOUR RUBBER WIPER WITH SILICONE WIPER!
Silicone Wiper Blades vs. Rubber Wiper Blades
The New and Improved Tripledge premium silicone wipers are the only double-patented silicone wipers on the market today, and they're the last set of wipers you will ever need. The Tripledge wiper blade is made with a premium silicone squeegee, superior to rubber found on most other blades. Tripledge also has a special hydrophobic property that allows water to bead up on your windscreen, preventing smears and improving your overall vision quality.
Traditional wiper blades using organic rubber are carbon-based. The structural bonds of carbon are weak and easily broken by other chemicals. The carbon in rubber blades reacts with the sun's energy and deteriorates over time, causing the wiper to crack and tear. Exposure to ozone and driving conditions intensifies this process. Organic rubber blades can't endure temperature extremes and lose their functional qualities outside the temperature range of -20°C to 27°C. For these reasons, manufacturers of organic rubber wiper blades usually recommend that blades be renewed every 6 months.
Unlike organic rubber, silicone is inorganic and inert. Silicone blades will not break down, even after years of exposure to harsh conditions, and retain their functional qualities from -63°C to 177°C, while offering superior wipe quality! Silicone naturally resists ozone, UV rays, road grime, automotive fluids, solvents, ice and, of course, rain. Drivers can rely on Tripledge Premium Silicone Blades for reliable wiper performance even after years of use!
 
Benefits of Silicone Wiper Blades
Silicone blades do not stick to frozen windscreens. Unlike organic rubber, silicone will not absorb moisture over time causing ice build up in freezing conditions. Silicone blades are extremely durable. Unlike organic rubber wipers, silicone blades do not dry out, or "set" after long exposure to ozone, UV Rays, ice, snow, heat or cold. Silicone blades provide superior wipe quality years after organic rubber wipers fail. Silicone has superior resistance to fuels, oils, acid rain, washer fluid and road grime. Silicone is naturally resistant to extreme temperatures. It retains its functional qualities from -63°C to 177°C. Silicone blades are an environmentally conscious solution because they are inert and will not harm the environment.
Hydrophobic Properties
The New and Improved Tripledge silicone squeegee applies microscopic amounts of silicone with every wipe of your windscreen. This causes water to bead and shed off the windscreen with ease. The water will not smear causing a blurry and unclear layer of water on the windscreen. Other wiper companies require you to buy a separate windscreen treatment to get this effect. Save your time and money! Improve your safety and wipe quality by upgrading to the New and Improved Tripledge premium silicone wiper blade. 
——————————–
 Below are the list of some silicone wiper blades available in the car accessories with the short description and price.
Superior Longlife Silicone Wipers
Virtually Indestructible! These long-life wiper blades guarantee smear-free, super smooth and silent operation for many years to come. With Aeroblade wipers, this might be the last time you ever need changing wiper blades!
Finally, the DISCOVERY of the
ULTIMATE DREAM wiper blades
that you have been searching for …..
It's so good, you WANT them NOW!
That's a bold statement. But that's the Hard FACT.
The moment you experience the aeroblade wiper blade's super smooth, ultra quiet and crystal clear wipe, you will easily SEE why aeroblade wipers are the ULTIMATE, Top-of-the-Class wipers there are in the world today.
It is the only wiper blade that has exceeded the US Military Weather Standard Test for Endurance and Solar Radiation (MIL-STD-810F Method 505.4). As a matter of fact, numerous tests had been conducted and repeated with one affirmative outcome : Virtually Indestructible!
This means, our wipers are the ONLY TRULY long-lasting silicone wipers. Remember, not all silicone wipers are the same. Many fly-by-night companies offering their own version of silicone wipers are of mediocre standards. Beware and be aware.
Our patented formulation to produce these highly advance one-of-its-kind silicone wipers took years of research and development in artic-cold and dessert-hot countries. They were then fine-tuned to provide an exceptional wiping experience for all windscreen surfaces. Suffice to say, not one silicone wiper manufacturer is the same and definitely few, if any, could compare to the exhaustive development done onto the aeroblade wipers.
We were among the firsts to set NEW HEIGHTS to the industry by providing an unprecedented and unheard of 5-year warranty to the wiper blades. We even guarantee that your blades:
will not stick to your windscreen
will not tear
will not crack
will not rot …. ever!
It's amazing. But True. That's why we call it virtually indestructible.
 Safety First.
As a crucial safety device to all vehicles (try driving in heavy rain/snow without the wiper) aeroblade wiper is LEADING and CONTINUE TO push the limits of attaining super clear vision even during a heavy downpour. This has proven to greatly reduce the stress of driving in the rain. Therefore, not only has aeroblade wipers elevated safety to the next level, they provide the "unbelievable" comfort experience every driver has ever yearned for.
Everyone who has tried aeroblade wipers can never settle for anything else!
And now, for the first time ever, you can absolutely enjoy premium quality wiper blades at an amazingly affordable price. With no more juddering, chattering and irritating squeaking noise (even after years of punishing use), you'll be the happiest person on Earth when rainfall comes! Guaranteed!
The long-life silicone wiper blades are highly resistant to :
weathering (works best in rain, sun and snow)
extreme temperatures (-50oC to 300oC)
chemical reactions (acid rain, ozone, grease, tar and all)
These properties alone will put even the most advanced (and very expensive) natural rubber blades to shame. While all of these rubber blade manufacturers recommend that their blades be replaced every 3 or 6 months, aeroblade wiper guarantees you at least FIVE complete-satisfying years of use. It is not uncommon to receive testimonials that says "Even after 5 years of use, my aeroblade wipers work truly like I've just bought them 2 days ago. Simply unbelievable!".
The secret : Aeroblade wiper blades do not react with ultra-violet (UV) and infra-red (IR) light radiations. As such, it will not harden and deteriorate over time.
Put aeroblade wipers on your car today and start enjoying the very best of premium silicone wipers. And you can CLEARLY SEE why.
Go
SIZE PRICE (RM) PRICE (USD)
12″  30  10
14″  35  11
16″  35  11
18″  40  13
20″  40  13
22″  45  14
24″  65  20
24″ Mercedes Benz 95 30
26″  75  24
 
=====================
Premium Silicone Wipers, Silicone treatment with every wipe
The Tripledge wiper blade is made with a premium silicone squeegee, which is superior to the standard rubber squeegee found on most other wiper blades.
Tripledge has a special hydrophobic property that allows water to bead up on your windshield, which prevents smearing and will improve your overall vision quality.
Silicone treatment with every wipe
Won't rattle, chatter, warp, or wear out
Repels water
Great Price
Better Blade
Silicone wiper blades are safer and longer lasting
ALL TYPE OF YOUR CAR WIPER SIZE :
Proton Saga / Iswara   – 18″/19″
Proton Wira                – 17″/20″
Proton Waja               – 18″/20″
Perdana                      – 18″/22″
Gen2                          – 19″/20″
Kancil / Kelisa            – 16″/18″
Kembara                    – 14″/20″
Kenari                        – 17″/19″
Myvi / Avanza            – 16″/20″
Toyota Vios               – 14″/21″
Toyota Unser             – 18″/18″
Toyota Altis               – 16″/24″
Toyota Camry            – 19″/21″
Toyota Wish               – 14″/26″
Toyota Rav4               – 17″/20″
Toyota Harrier(2004)  – 22″/26″
Honda City                 – 14″/24″
Honda Civic(1996)      – 18″/22″
Honda Civic 1.7          – 19″/21″
Honda Jazz                  – 16″/22″
Honda CRV                 – 18″/20″
Honda Accord (O)        – 19″/24″
Honda Accord (N)        – 18″/26″
Honda Stream              – 14″/24″
Honda Odyssey            – 24″/24″
Nissan C22                   – 17″/19″
Nissan Sentra                 – 16″/22″
Nissan X-trail                 – 16″/24″
Nissan Cefiro                 – 20″/22″
Nissan Serena (O)           – 26″/26″
Nissan Serena (N)           – 14″/26″
Hyundai Atos                  – 16″/20″
Hyundai Accent               – 18″/20″
Hyundai Matrix               – 16″/21″
Hyunday Getz                 – 14″/22″
Hyunday Elantra              – 18″/20″
Hyundai Sonata               – 20″/22″
Kia Rio                           – 18″/21″
Kia Spectra / Sephia         – 19″/21″
Kia Sportage                    – 20″/20″
Kia Caren                        – 19″/24″
Kia Carnival                     – 24″/24
Silicon wiper PRICE RM81
 
=====================
Type R Silicon Wiper Blade 20 inch
Price: from RM 20  
This excellent quality Silicon Wiper Blade is NOT available at Shops. High Heat Resistance, Excellent Durability and Good Resistance against Acid Rain.
It will last you more than a year.
TESTED & PROVEN ! up to 3 years.
Available from 20′ at RM 40/- a pair.
(any length from 16″ to 20″)
 
=====================
Silicon Black Blade Technology 19 inch – New
Price: RM 45  
Our "NEW" Soft Silicon Black Blade comes with a New Blade Technology in the latest of Silicon Wiper for a Cleaner and Super quiet Wipe. Improved compound added for a Lower Resistance and Softer Wipe without sacrifying the High Heat
Resistance and Durabiltiy properties in Silicon Wiper.
Recommended for newer Cars.
Available Now Only (16″ to 20″) at RM 50=> RM 45/- a pair.
 
 
=====================
Quarte Banana type silicon wiper blade
Price: RM 28  
New!! Quarte banana type silicon wiper blade!! super value buy!! size 12″ to 24″ avalaible!! RM28.00 pc or RM50.00 pairs.
Please follow and like us: