Which sport rims color do you prefer? Normal colour like grey, silver, chrome or rare colour like white, blue and gold? Nowadays, people start to like the rare colour of sport rims. They like to be different and sometimes, the rims really looks cool. Especially the fluorescent and candy transparent type of colour. So how about you? Prefer normal colour or the rare colour of rims?
CAR SPORT RIMS COLOUR – WHICH ONE? SPRAY IT YOURSELF?
Sport rims coloured with blue, purple, red and pink. The red colour sport rims now is a trend in Kuantan. You can see some of the car there using the red sport rims.
Dark chrome colour, black, black face with red lips and white sport rims. I personally not recommend the black sport rims because the rims looks just like steel rims and hard to see the beauty of its design and shape. White colour sport rims really suitable for white car. But you need to clean it frequently. If you want to have black rims, go get it with coloured lips.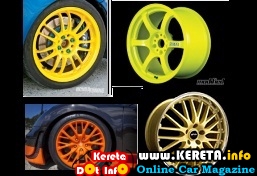 Yellow, fluorescent green and orange and the gold sport rims. It is rare but very nice. Especially for heavily modified cars.
Spraying or painting sport rims
Instead of buying a sport rims with certain colour, you can also spray the sport rims to your desired colour. Usually the price or charges to spray the sport rims is around RM150 to RM250 for all 4 wheels depending on what type of colour do you want. Do not spray by using spray can. It will deteriorate faster. Send it to sport rims spray workshop.
Please follow and like us: