CAR LOAN PROCEDURE – REQUIRED DOCUMENT – HOW TO BUY A NEW CAR / USED CAR
Here is the car loan procedure and the required document for you to buy a new car or a used car from the car seller. You must have Driving License, Pay slip and Guarantor to get better interest rate for car loan in Malaysia. Procedure To Appy Loan & To Buy A Car in Malaysia is a bit complicated. To make it easier for you, refer to your car seller about the Loan approval for hire purchace agreement and car registration. You can check the latest plate number and choose your own desired car registration number in Malaysia. "Pinjaman kereta" by Ambank Hire Purchase Car Financing is a better choice. Also check out the Islamic based financing for your car.
Required Document for Loan
 
Application (Copy)
Applicant:
1) Identity Card
2) Malaysian Driving License
3) Pay slip (3 Month Latest)
 
Supporting Document (if Any):
1) Bank Statement (3 Month Latest)
2) EPF Statement
3) EA Form
4) Offer Letter
5) Certificate/Diploma/Degree
 
Guarantor: (If Required by Bank)
 
1) Identity Card
2) Pay slip (3 Month Latest)
 
Applicants are encouraged to submit all document needed support by extra
documents in order to get better interest rate and approval chances…
Procedure To Appy Loan & To Buy A Car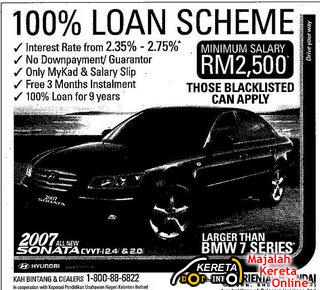 Here is the procedure and steps or flow when you buy a new car in Malaysia:
1) Buyer choose model
2) Contact car seller, arrange for appoinment
3) Ready all required documents
4) Appointment with consultant at your door step
5) Documents submitted for loan processing (1 – 2 working days)
6) Interview by bank (1 – 2 working days)
7) Loan approval by bank manager (1 – 2 working days)
8) Hirer sign hire purchace agreement (one working day)
9) E-perolehan and chasis no process (1 – 2 working days)
10) Car allocation from showroom / headquarters (1 – 2 working days)
11) Car registration (one working day)
12) Car delivery to hirer
For Car Financing, Ambank Hire Purchase is the no.1 Car Financier in Malaysia with fast loan approval. It consist of 3,000 appointed car dealers with complete auto solutions. Ambank offers a 90% car financing for up to 9 years with easy repayment via Internet Banking or Electronic Banking nationwide.
For Car Refinancing, Ambank offers additional cash to ease cash flow. Cash can be unlocked without creating additional liability to settle financial woes and name still remains on JPJ registration card. Refinancing with Ambank also will ensure enjoyment of current Insurance NCD. There is also opportunity to switch to lower profits rates. Lastly, Ambank offers an alternative to re-package existing loan to Islamic based financing.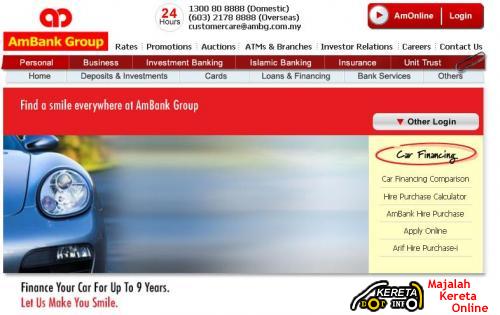 Prosedur Pinjaman kereta by KDI
Please follow and like us: