Look at this pictures. This Kia Optima K5 is totally basketball themed.Named as the Blake Griffin Optima Hybrid car, this car came in a basketball orange color and was accentuated by 20 inch Matte Black wheels, and Blake's logo on the hood.
The interior features leather seats with Blake's signature stitched into the headrests, not to mention basketball flooring in the front and rear. The interior was finished off with a mind-blowing sound system, complete with TV's and an Xbox. The final kicker for hoops fans had to be the basketball hoop mounted in the trunk.
Under the hood the 2012 Optima Hybrid beats a 2.0 L four-cylinder engine, essentially the same "Theta-II" engine in the majority of Hyundai/KIA models but re-tuned to run on a modified Atkinson cycle. In hybrid form the engine turns out 168HP at 6,600 RPM and 154 lb-ft at 4,250 RPM.
The electric motor adds 40HP from 1,400-6,000 RPM and 150 lb-ft of torque from 0 to 1,400 RPM, which, like the M35h, combines with the engine's figure in a more linear fashion than do the Fusion's CVT motor/generator setup with a combined power output of 206HP at 6,000 RPM and 195-lb-ft of torque at 4,250 RPM. The clutch packs enable the Optima to operate under electric-only, petrol-only, or both. With the cruise control set to 100km/h on a level highway, the KIA will run electric only until the battery is partially depleted, then start the engine and charge the battery while running on the engine, then once charged, it will shut down the engine and run on electric power again. This is decidedly different than the other mid-size hybrids on the market which run their petrol engine constantly at highway speeds. The transmission is 6-speed automatic transmission.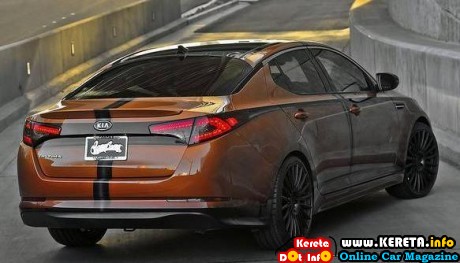 Please follow and like us: