Here we would like to share one of the best example of VIP style modification on MPV. This Toyota Estima is captured on the International Autoshow and we really amazed on how the owner of the MPV modify it nicely. So this is one of the good example for you to do a modification especially on an MPV which is quite tough to think of the design and theme. But, the most suitable modification theme on MPV surely is the VIP style. Sports style and other modification style not really can fit nicely with an MPV. Above picture, the Estima in white with big sport rims also in white, lowered suspension plus the Bodykit of estima express exterior of VIP style modification.
The front grille finished with chrome, custom front bumper design of the estima is simple yet gorgeous. All in White VIP theme.
The interior, speechless! It is a kind of futuristic & luxury combination of modification theme. Brown colour leather seat and the turquoise colour light linings near the door step shows the futuristic design ideas.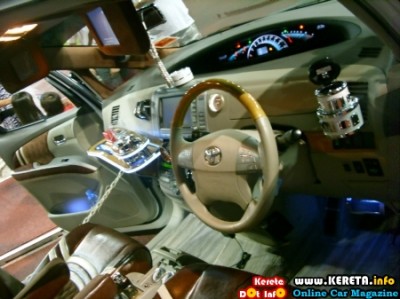 LCD screen on sunvisor, center panel for audio system. There are VIP trays with white and chrome finishing. White light in each compartments..
Roof interior is wrapped with brown leather and also the light linings. 
Not to forget, the extreme audio system with two 12 inch woofers, capacitor, amplifier covered with acrylic panel and decorated with white light. The Big LCD screen included which makes the total cost of audio system thousands of Ringgit.
What is the special stuff on this Modified MPV Estima is the custom headlamp. Instead of smoking the headlamp with black base, the owner decide to paint the base of headlamp with white and put some flower on it which is very creative and nice. Plus the white LED that will turn Orange when signal is on.
This is another new style of LED decoration which uses mirror to reflect the purple LED to make it like a Hologram 3D effect in the glass. Overall, we think that this is the best VIP modification that we have seen until now.
Please follow and like us: