Which one do you prefer if you are going to buy a family luxury sedan? BMW vs Audi vs Mercedes Benz?
Most of younger generation will put aside the last choice which is Benz eventhough they have a lot of improvement on the interior design but the exterior is still classic except for smaller model like the CLA or A class that have a sportier appearance.
For a family luxury sedan, the car that will usually comes in mind are the BMW 5 series vs Audi A6 vs Mercedes Benz E200. BMW is known to be the manufacturer that focus more on driving dynamic, Audi on Performance and Luxury and Mercedes more towards driving comfort.
But today we are going to give a head to head review between BMW 520i F10 and Audi A6 C7 although BMW 5 series G30 just launched but it will not be here in Malaysia so soon. So BMW F10 is still availablr in Malaysian market now for comparison with the current Audi A6 C7. While Mercedes Benz is a default choice for old guy, so we make this review for younger buyer who want to compare between 2 german luxury performance ride Audi VS BMW.
To be honest, we are one of the BMW big fans and since Audi is under VW group that has a lot of reliability issues here in Malaysia and worldwide, we are not really lean towards getting an Audi anytime here.
But, after getting behind the wheels of both BMW 520i F10 2.0 twinpower turbo engine with 8 speed ZF Transmission and Audi A6 C7 1.8 35 TFSI with 7 speed S-tronic, we have quite a surprising result of which one is the winner of this head to head.
Below, we summarize all the points of Like and Dislike from our test drive review of BMW 5 series vs Audi A6.
BMW 520i F10 Review


Like :
+ Speaker sound quality
+ Seat comfort
+ Best steering feel and weight
+ Arm rest nicely position
+ Smooth, responsive & quite engine
+ 8 speed GB : very smooth gear change
+ Quite interior at high speed but slight wind noise noticeable
+ Gear lever is more stylish and high tech
+ Multi zone air conditioning with maximum flow button.
+ Boot space
+ Sport, comfort & eco driving mode selection
+ Steering feel
+ Stylish cruise control indicator on meter cluster
+ Very comfortable suspension
+ interior material quality
+ 0-100 kmh acceleration of 8.8 seconds
BMW 520i F10 0-100 acceleration video :
BMW 5 series interior :
BMW 5 series start stop system :
Dislike :
– Orange colour meter cluster
– Position of meter indication not high enough for your eyes to see during driving.
– Infotainment selection switches takes some times for you to familiarize
– Small non touch screen
– Annoying start stop system. Car vibrating during every restart.
– Small wing mirror. Bad side mirror visibility
– Auto moving wing mirror during reverse – annoying because you want to see the side not the road during reverse.
– Tight interior space – only 1 inch space for leg room in front and rear passenger
– Front leg rest – its pushing your leg inwards. Not comfortable especially when your knee hit the sharp edge of center dash
– Body roll during corner – surprisingly not giving enough confidence for high speed cornering eventhough it is rear wheel drive.
– Small door bins & center armrest storage – better don't call it a storage. Call it small hole.
– Very plain speedometer design – boring and outdated
– Turn signal controller need more input to hold signal – it is weird, like we have to push two step for it to stay blinking.
– Need more force to push the horn but its sounds nice.
Problem of BMW 5 series :
– Big exterior size, small interior space. Only comfortable for 4 adult.
– Run flat tyre expensive price
– Big transmission tunnel
Audi A6 drive review


Like:
+ Firm suspension but very comfortable ride
+ Very stable during cornering and high speed
+ Very Spacious interior – more than 2 inch empty space for leg room in front and rear seat, wider at rear seat.
+ Cabin interior design – better material quality, a lot of soft touch material, feels very expensive and luxury, a lot of high tech gadget.
+ Gearbox changing super quick – the fastest gear change with s tronic 7 speed.
+ Gearbox changing sound very nice
+ Very quite, no wind noise, very minimal road noise
+ EXTERIOR LED light styling
+ Super fast acceleration at any speed
+ Ergonomic seat
+ High quality Interior material
+ Sporty engine sound when press hard
+ Awesome speedometer design and colour
+ RPM kept low at 1250 during 90kmh, 1.5k around 110kmh = Better fuel consumption.
+ Extra B pillar aircond vent with 4 zone controller
+ Paddle shifter : the most fun and responsive shifter.
+ Start stop system is quiet and quick.
+ 0-100 kmh in 7.5 seconds
Audi A6 C7 35 TFSI 0-100 test :
AUDI A6 start stop system :
Dislike:
– Very small acceleration pedal, not sporty and not bottom hinged.
– Turbo lag : from slow drive for about 1 second below 1200 rpm.
– Too sensitive and light steering
– Low resolution MMI non touch screen
– Big side pillar affect visibility
– Small torque steer during acceleration (flooring the pedal)
THE BEST LUXURY SEDAN :
From the list of like and dislike, our clear winner for this head to head between BMW 5 series F10 vs Audi A6 C7 is the one with 1.8 TFSI 7 speed S-tronic gearbox, the Audi A6 C7 35 TFSI.
After testing both cars, we feel really frustrated on how BMW present their family sedan luxury car, the 5 series and very excited to drive the Audi A6 due to more comfortable cabin, more luxury feeling, more spacious and more performance.
Below we found few points that Audi did better than BMW in this comparison.
1) Better road holding and at the same time maintaining comfortable ride. BMW suspension sometimes gives a bumpy ride like when you are driving an Express Bus.
2) Sharper handling eventhough the steering is lighter. BMW F10 has better steering feel but it has a noticeable body roll during corner and during lane changing while in an Audi, you will feel more agile on the road.
3) Space is a main factor. Audi has a lot of space of front and rear seat especially the leg room. I am 176cm tall and i have 2 inches of space between my knee and the dashboard at the front and 2 inches space from my knee to front seat when sitting at the back. BMW only offers 1 inch empty space for your leg room and the back seat is only comfortable for 2 people.
4) Cabin comfort is more in an Audi due to it's very quite cabin, better interior design and quality and the ergonomic seat. By only sitting in an A6, it is enough to make you smile and feel so relaxed compared to 5 series cramped space and too plain interior design. I have a problem with my knee touching the sharp edge of the center dashboard and need to adjust the seat further back.

5) Audi 1.8 liter TFSI engine gives you better acceleration and crazy pull. BMW F10 2.0 twinpower turbo is not too bad but it is too smooth when pressed hard. Whenever you floor the pedal in A6, after the boost built up, the forces acting forward makes you want to say "hey, slow down horses!" Because it is too much and excessive for this kind of family car.
6) Audi A6 S-tronic gearbox offers spirited drive with quicker gear change and it sounds like an F1 gear shift where there is a "krak" sound during gear change and the paddle shifer is the best shifter and most responsive we have ever tested. The F10 gear knob is too far to get the tiptronic works however gear shift is quite quick too but not sporty enough.
7) Better speedometer design, information position, colour and details. BMW meter cluster is too plain, with orange lighting on the back panel, it is too annoying to look at. The BMW information LCD should be put higher and to the center for our eyes to quickly see any important information like gear position indication and driving mode selection.
And there is a lot more reasons why we love the A6 more than 5 series. We expect the F10 to be better because we like the brand more than the Audi but unfortunately, after the E production series of BMW cars, we feel the F series lost their focus and the design is not as prestigeous like E60 5 series and E90 3 series.
The Audi A6 is the better performer and offers the perfect blend of performance, driving dynamic and without loosing any details on the comfort and luxury feels. However the main issue with the Audi might be the maintenance and after sales service. If you follow Audi Owners group in FB and forum, you will have some clear view on how to maintain your Audi and it is not too bad.
So again, for those searching for luxury family sedan, we have pointed the best car here that have the complete overall package eventhough we found a lot of reviewers tends to praise BMW more but we prefer to be more independant (even we like BMW badge more than Audi) and sincere about this.
Overall we are really impressed with the new Audi A6 C7 35 TFSI. How about you?
Picture gallery :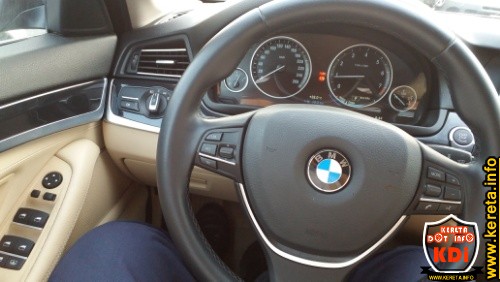 Please follow and like us: