All New Toyota Avanza 2012 face lift launched with a lot of improvements on the exterior, interior, features and dimension. Here we share the latest brochure of New Avanza Specification, images, price list with monthly installment and all detail info regarding New Avanza 2012 Malaysia or known as New Daihatsu Xenia in Indonesia.
ALL NEW TOYOTA AVANZA SPECIFICATION BROCHURE PRICE LIST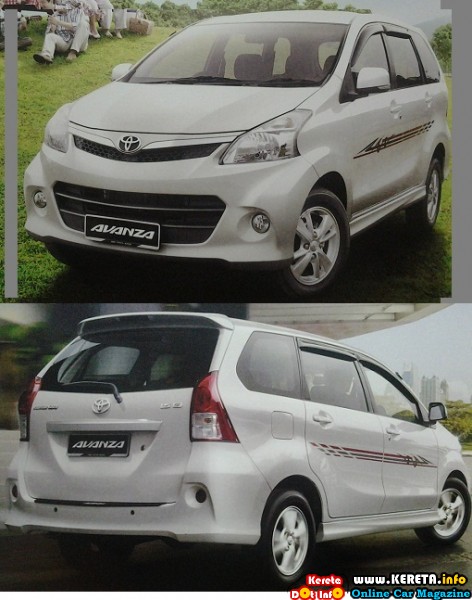 New Avanza 2012 features new front and rear bumper, new front headlamp and rear tail lamp, extra long in  dimension to give more boot space. It looks bigger than before.
The new avanza front grilles different between 1.5 G and 1.5 S. It has a new alloy rims 15 " for new avanza and new fog lamp and side mirror with LED turn signal.
The interior space for passenger in the New Avanza 2012 is quite the same with the old version with the dimension width of 1660mm. The dashboard has a minor changes there with new design panel.
A new speedo meter on the new avanza.
double blower for front and rear passenger. aircond outlet on top of passenger cabin roof gives better air conditioning.
New way to fold the new Avanza seat. You can slide and you can fold it.
The suspension is the same with the old one.
Additional accessories for new Avanza 2012. bodykit or aerokit for new avanza, toyota standard solar film and the colour available for new avanza 2012.
New avanza dimension : 1660mm width, 1695mm height and 4150mm length.
New Toyota Avanza 1.5S A/T , 1.5G A/T , 1.5E A/T and 1.3E M/T specification
The All New Avanza 2012 uses 3SZ-VE engine for Auto transmission 4 speed 1.5 litre VVT-i toyota engine while K3-VE for it's new Avanza 1.3E 1.3 litre  with 5 speed manual transmission which puts out only 91 PS of horsepower and 117 Nm of torque. It is ok with 5 passenger with it's 1070kg of curb weight which is considered light such as a sedan but quite sluggish when you carry around more than 5 passenger.
Price of All New Toyota Avanza 1.3 manual and 1.5 auto Malaysia
 The New Avanza 2012 price starts from around RM63k for manual transmission 1.3 litre up to RM78k for the full spec 1.5S auto transmission. The standard solar film can be purchased at RM 1400.00 while bodykit or aerokit for new Avanza can be bought at RM1900.00. The current interest rate is below 3% per year and monthly payment (bayar bulanan) installment starts at around RM600 for manual up to around RM800 for full spec auto depends on how much you put for down payment which is usually 10%.
Toyota Avanza Baru 2012 harga spec gambar promosi mpv Malaysia
Please follow and like us: