(From left to right) Datuk Hafiz Syed Abu Bakar, COO of Naza Kia Malaysia, Mr Shangwon Shim, Representative from Kia Motors Corporation's Asian Regional Headquarters and Mr Roshdy Hassan, General Manager for Operations at Naza Kia Malaysia at the launch of the All-New Rio. KUALA LUMPUR, Jan 30– Naza Kia Malaysia today launched the highly acclaimed and award-winning All-New Rio. The All-New Rio was Kia's best-selling model globally in 2012 with a total of 466,826 units sold. 
ALL NEW KIA RIO 1.4 EX SX RM74K SPECIFICATION REVIEW IN MALAYSIA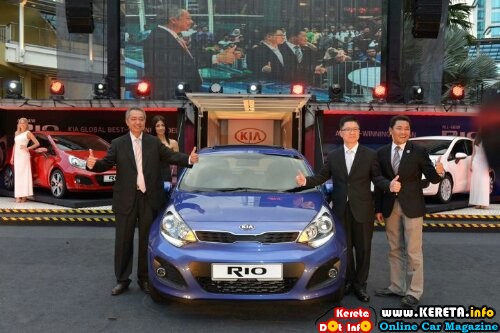 Kia Rio With a monthly target of 200 units, the All-New Rio is set to turn heads in the B-Segment of the market and is positioned for consumers under 35 seeking a youthful and trendy lifestyle vehicle that does not compromise on fuel economy and safety. "The All-New Rio has been one of the most anticipated model launches in Malaysia and will play a pivotal part in growing Naza Kia Malaysia's sales volume this year. "With the All-New Rio, we will be able to tap into the growing B-segment market," said Datuk Hafiz Syed Abu Bakar, COO of Naza Kia Malaysia. 
New kia rio malaysia With a sophisticated style that combines a sleek silhouette and urban character, the All-New Rio counts the International Design Excellence Award in the United States and the Product Design Award at the 2012 Red Dot Design Awards in Europe among its accolades. Kia's signature 'Tiger Nose' radiator grille features a geometrical lattice pattern that sets off the All-New Rio's stylish profile along with projection-type lenses and LED Daytime Running Light (DRL) for optimal visibility. 
Kia Rio spec automatic electric folding mirrors are aerodynamically sculpted with LED side repeaters while at the back, its LED rear combination lamps improves the All-New Rio's visibility and brightness. Inside, the All-New Rio features a tilt and telescopic steering wheel with audio and hands-free functionality, push start ignition (only available in 1.4 SX), Bluetooth connectivity, an audio system developed by Arkamys that was specifically tuned for the All-New Rio connected to six-speakers as well as AUX, USB and iPod connectivity. 
All new Kia Rio specification Other premium features available exclusively in the 1.4 SX variant include a sunroof and a supervision cluster with a trip computer that enhances the overall ambience of the car as well as auto air-conditioning with cluster ionizer, an auto defog system and rain sensor that is automatically initiated when the sensors detect misty conditions and 17-inch alloy wheels. The 1.4 EX comes with 16-inch alloy wheels. 
Underneath its hood, the All-New Rio is powered by Kia's Gamma 1.4 MPI CVVT Engine which produces 109 PS and 137 Nm of torque, mated to a four-speed automatic transmission with a shift gate for manual-style gear shifting. 
The Gamma engine was specifically designed to provide an extra power boost without incurring a big loss in fuel economy. The fuel consumption of the All-New Rio on a combined cycle is 16.6 km per litre with CO2 emissions limited to 130g per 100km. The drivability of the All-New Rio is further enhanced through the improved braking system with a 36.2m brake distance (from 100km/h – 0km/h) and 5.2m turning radius for easier manoeuvrability.
Kia Rio malaysia front suspension is fitted with Macpherson Struts to improve ride quality while the rear suspension is fitted with a torsion beam axle for increased stability. In addition, the All-New Rio features a motor-driven power steering (MDPS) that saves fuel consumption by 3% by eliminating hydraulics in favour of an electrically-driven motor.
All-New Rio's Drag Coefficient has been reduced to 0.32 to reduce fuel consumption and noise. Safety-wise, the All-New Riocomes with ESC, EBD, ABS, Traction Control System (TCS), Brake Assist System (BAS), six-airbags, ISOFIX lock-in child seats at the rear and safety windows with anti-pinching technology on the driver's side and sunroof. The All-New Rio is fitted with a Vehicle Stability Management (VSM) next-generation braking system that operates in tandem with the ESC to safely negotiate asymmetrical driving situations such as when one side of the car runs over a wet surface and loses traction. 
All-New Rio has achieved a five-star safety EURO NCAPT certificationand comparably high scores in NHTSA safety tests in the United States. "For 2013, we are targeting to increase our sales volume by 22% to 15,000 units and the All-New Rio will play a significant part in achieving this target," said Datuk Hafiz. As part of Naza Kia Malaysia's pre-launch activities for the All-New Rio, the company held the Rio Runabout contest on its Kia Malaysia Facebook page where one lucky winner would walk away with one unit of 1.4 SX variant. 
The contest, which was held from Dec 16, 2012 to Jan 24, 2013, required contestants to solve six puzzles that were displayed on the Kia Malaysia Facebook page. A total of 5,000 entries were received and the top 10 finalists were shortlisted for the grand finale contest on Jan 30, 2013 that comprised of on-ground contests that required the finalists to complete challenges at five separate locations in the Klang Valley. 
The winner of the grand finale was presented with the grand prize at the launch of the All-New Rio. 
All-New Rio will be available in Deep Blue, Signal Red, Clear White and Bright Silver while Electronic Blue will only be available for the 1.4 SX. The on-the-road price for the 1.4 EX is RM73,888 and the on-the-road price of the 1.4 SX variant is RM79,888. The All-New Rio comes with a five-year unlimited mileage warranty.
WARRANTY AND SERVICING
Warranty: 5years
Service costs: Service costs may vary, consult your car dealer before purchase.
If you are the Kia Rio owner, you are welcome to give some reviews on Kia Rio spec, maintenance, service center charges/fee ( caj major minor servis ), daily fuel consumption ( jimat penggunaan minyak ), technical problem (masalah kereta), better engine oil and fuel and Kia Rio engine modification (prestasi enjin).
Kindly share on Kia Rio body kit / skirting modification, diy modified gadget / car accessories,  how much yearly insurance and road taKia Rio (insuran / cukai jalan) rm per year, interior mod (modifikasi), quality / reliability, Kia Rio test drive reviews (pendapat pandangan pandu uji) , spare parts, tyres (saiz tayar) and Kia Rio sport rims 15 16 17 / 18 inch suitable and all other related issues here.
– Do you want to buy this car for sale? Check out Kia Rio deals, discounts, promotions, prices (harga murah), specs, reviews, ratings, brochure, pamphlet & photos available here at http:kereta.info . Use our search form to find out if  there is any more info related to this car. Thanks for reading.
This post is related to Kia Rio specification bodykit body kit bumper sport rim spoiler head tail lamp modification interior engine performance price harga rm review test drive skirting problem spec spoiler accessories
Tagged as: Modified Kia Rio, Kia Rio specification, bodykit Kia Rio, body kit,  bumper Kia Rio, Kia Rio headlamp, sport rim Kia Rio, spoiler Kia Rio, tail lamp, Kia Rio bumper, modified, Leather seat, Kia Rio interior, Audio system, engine Kia Rio, price, rm, harga, skirting, Kia Rio review,  Kia Rio spec, Kia Rio malaysia,
Please follow and like us: