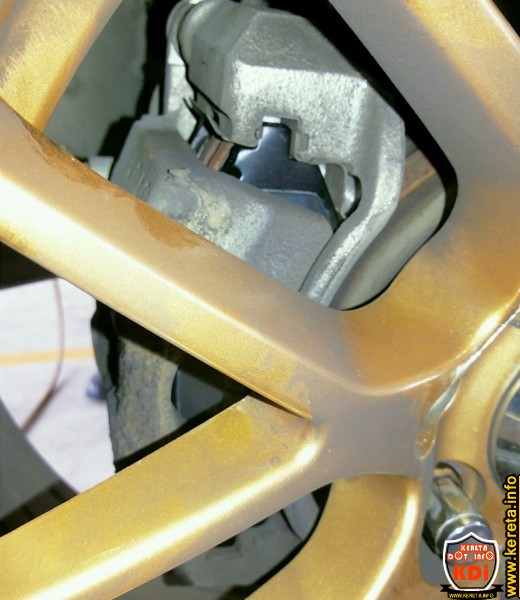 Why you should use original OEM brake pad and disk?
This is a common mistake done by car driver. They tends to save money and buy a cheaper brake pad without knowing any of the side effect of aftermarket brake pad and disk.
I have once made the same mistake like others. Comparing the price of aftermarket brake pads and original brake pads, RM90 to RM140, the RM50 difference, really not worth to choose the non OEM vs original OEM brake pad.
Let's see the disadvantages of non OEM brake pads :
1) Noisy braking, a high pitch screeching sound produced when applying brakes
2) Front wheel easily get dirty by the grey dust produced by the brake pads (see grey dust in the picture above)
3) Brake pads easily worn out and has a shorter service life (the black part inside is the brake pad)
4) Some aftermarket high performance brake pads will make your brake disk worn faster and gets thinner.
5) Too much grip will make a car without antilock brake system ABS skidding easily.
5 REASONS WHY YOU SHOULD USE ONLY OEM ORIGINAL BRAKE PAD, NOT AFTERMARKET OR HIGH PERFORMANCE BRAKE PAD
If you like to upgrade, a set of brake pad and brake disk with same brand like brembo or proride might suit your needs. Dont mix non OEM brake pad with OEM brake disk.
Some non OEM brand : bendix, bosch etc.
Any experience to share guys?
Please follow and like us: