NEW MYVI ICON 1.3 and 1.5 facelift 2015 launched with better specification, price and safety features. Starts from RM41.5K for 1.3 standard G manual up to max RM58.5K for the full spec New Myvi Icon 2015 Advance Edition.
Due to a lot of facelift done to the Myvi model since its 1st gen, we would just name this one with the name "icon" following the big bold words stated on its official broucher.
So this 2015 new myvi icon is the successor of its previous version of Myvi "lagi best".
2015 NEW MYVI ICON FACELIFT BARU SPECIFICATION BROCHURE – STANDARD G, PREMIUM X, SE, ADVANCE
MYVI 1.5 ADVANCE EDITION new front bumper, rear bumper and new projector headlamp with LED DRL which is similar with the Myvi 1.5 Special Edition SE outlook.
Here we share the complete broucher of New Myvi icon facelift 2015 images, features and new spec.
Whats new with the Myvi icon facelift 2015?
+ Front bumper SE and Advance
+ Front bumper standard G and Premium X
+ Rear bumper SE and Advance
+ Rear bumper standard G and Premium X
+ Front projector head lamp with LED DRL
+ Rear crystal LED tail lamp
+ Front non projector head lamp for 1.3 myvi.
+ New light interior colour
+ New center audio player and navigation
+ new speedometer or odometer with different design between Myvi 1.5 and Myvi 1.3
+ safety handbag hook
+ new sport rim design for all variant
+ upgraded safety rating with 4 star Asean Ncap
+ front parking sensor
Other than that, all are exactly the same. Same old 1.3 and 1.5 liter dvvt engine with same amount of power and torque, same old 4 speed auto and 5 speed manual and same chasis dimension.
Myvi Icon facelift interior with leather seat, dark and light interior.
New Myvi icon Facelift 2015
Myvi advance and SE rear
Myvi premium and standard rear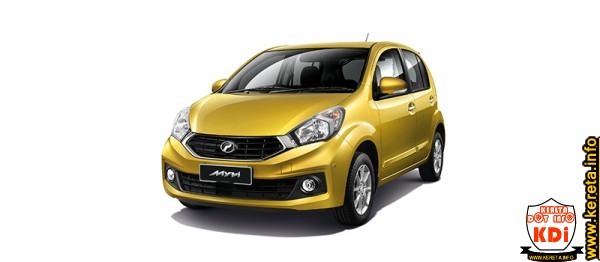 Myvi premium and standard front
Safety features of New Myvi 2015 facelift.
View price list of new myvi here:
http://kereta.info/2015-perodua-new-myvi-icon-price-list-1-3-standard-g-premium-x-1-5-se-and-advance/
Engine performance and interior dashboard spec of New Myvi 1.3 and 1.5 2015 with fuel consumption figure up to 18km/l for manual version using ron 95.
We see that the Premium front bumper looks more elegant than the higher spec Myvi SE and Advance baru.
And the previous Myvi Lagi best interior dashboard is more futuristic than this facelifted Myvi icon 2015.
2015 NEW MYVI ICON FACELIFT BARU Malaysia spec.
Please follow and like us: