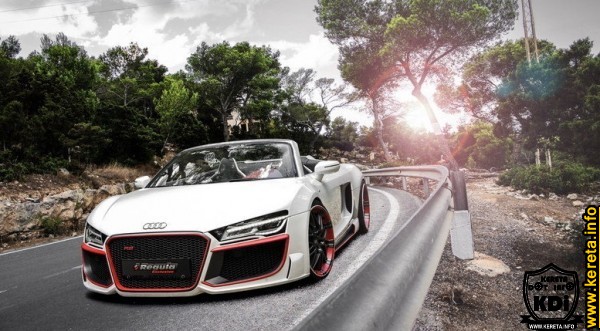 Audi telah menggerakkan bijak pandai mereka untuk memberi talaan kepada 2014 R8 di pasaran dan penala Jerman iaitu Regula Tuning telah menemui satu cara yang terbaik untuk mengemaskinikannya. Kit ini sepenuhnya dibuat dalam Carbon Fiber dan benar-benar mengubah rupa R8, walaupun kemaskini ini adalah terhad hanya untuk bahagian depan, belakang dan sisi.
Berikut adalah 2014 R8 specification di http://kereta.info :
PRICE – Harga pasaran luar 2014 R8 : –
Engine specification : 5.2-liter V10 engine
Horsepower @ RPM = 525 @ 8000
Torque @ RPM = 391 @ 6500
0-100 KMH = 3.8 seconds
Top speed KMH = 310
FC Fuel consumption km/l = –
Dimension length width height mm = –
2014 R8 additional features / review / news :
The new bodykit includes a new front and rear apron, plus a new set of side skirts, all made in carbon fiber. For the rear there is also a new exhaust system with the end pipes integrated into the rear spoiler.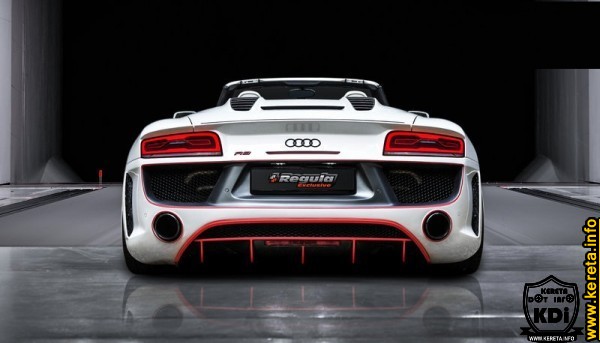 Since its appearing about seven years ago, the Audi R8 has been an eye catcher always and everywhere. The mid-engine sports car made by quattro GmbH at Neckarsulm, Germany, was able to convince even professional pessimists, "playing" today even so undeterred as also merited in the automobile fourth division, in one range with other big brands.
Please follow and like us: