Audi adalah satu jenama pembuat kereta yang gah di dunia setaraf dengan jenama-jenama lain di peringkat antarabangsa. Namun sejak kebelakangan ini, Audi tampil dengan lebih aggresif membuatkan peminat kereta lebih ghairah untuk memiliknya. Terbaru, OCT Tuning telah memberikan lebih lagi gaya yang tampak boleh membuatkan peminat-peminat kereta ini tidak tentu arah.
Berikut adalah Audi RS6 specification di http://kereta.info :
PRICE – Harga pasaran luar Audi RS6 : RM 392,894.00
Engine specification : 4.0 TFSI quattro
Horse power @ RPM = 670
Torque NM = 649
0-100 KMH = 3.4 seconds
Top speed KMH = 322
FC Fuel consumption km/l = –
Dimension length width height mm = –
Audi RS6 additional features / review / news :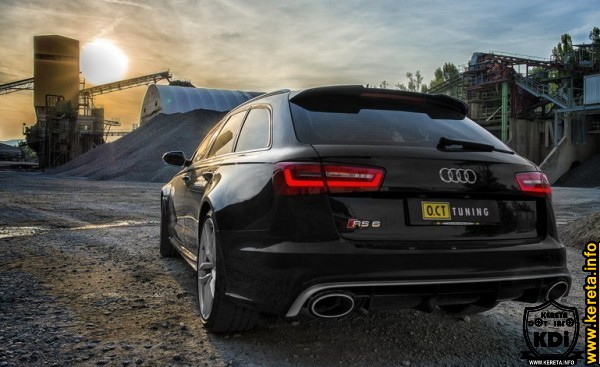 The Audi RS6 Avant is already a sick-looking rig, so O.CT Tuning opted to keep all of its focus on pumping the most power from the V-8 powerplant. Still, that black exterior paint draped on this wagon is simply sinister. The tuner is offering two stages of upgrades for theRS6  . In Stage 1, the engine electronics are heavily modified, pushing the V-8 engine to a blistering 670 horsepower and a peak torque of 649 pound-feet.
With the extra 110 horsepower under the hood, the RS6 awakens to a tune of 0 to 60 in 3.4 second. Top speed is increased to 306 mph, but an optional set of tires allow O.CT to unharness the RS6 to a top speed of 322 kmh.
Please follow and like us: