2012 CHEVROLET CORVETTE AND CENTENNIAL EDITION
Chevrolet will reveal the 2012 Corvette models alongside the Chevrolet Centennial Edition at a special event this weekend at the National Corvette Museum in Bowling Green, Kentucky. Production begins this July.
additionally, Chevrolet will boost the Corvette's performance capabilities having a series of enhancements for the 2012 model year aimed at offering better on-track performance and on-road comfort. The subtle performance improvements concern the Z06 and ZR1 models, although the rest of the Corvette lineup receives modest interior and equipment updates.
New for the 2012  are the optional Michelin Pilot Sport Cup Zero Pressure tires, which are offered for the 505HP Z06 as well as the supercharged 638HP ZR1 models. These competition-oriented tires promise to boost cornering and handling capability throughout warm, dry conditions. Combined with the Performance Traction Management (PTM) technologies, the Michelins are said to give an 8-percent gain in maximum lateral acceleration (a lot more than 1.1 g) and shorter braking distances.
The new Michelins are included inside the optional Z07 performance package for the Corvette Z06 along with a new PDE performance package on the ZR1. The tires come with all-new aluminum Cup-style wheels in satin black or machined finishes which are about five lbs (2.2 kg) lighter and stronger than the 20-spoke wheel.
Another upgrade is the racing-style spoiler included in both Z07 and PDE packages. The Z06 will also get the Magnetic Selective Ride Control suspension technologies and Brembo carbon ceramic brakes with the Z07 package. Extra optional extras incorporate the carbon fiber hood on Z06 models and taller gearing for the ZR1 in 5th and 6th gear for a 2-mpg improvement in highway fuel economy.
Inside, all 2012 Corvette models will get new seat and steering wheel designs. Chevrolet says the seats will feature larger bolsters for improved lateral support and optional microfiber suede inserts. Furthermore, all models receive contrasting color stitching (red, blue and yellow), and padded center console and armrests.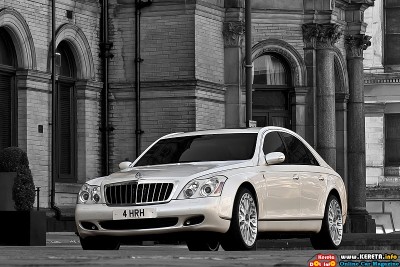 2011 MAYBACH 57 ROYAL WEDDING BY PROJECT KAHN
The Project Kahn Maybach 57 is fitted having a "4 HRH" license plate that reads " For His Royal Highness". The unique Maybach is finished in a bespoke pearl white shade and functions 22-inch Kahn RS wheels and smoked taillights. Project Kahn is jumping the shark around the royal marriage ceremony bandwagon having a unique tune celebrate Prince William and Kate Middleton's enormous day
The interior, which can be concealed from curious eyes by a Pentagon privacy glass, gains a exclusive offer that is made of quite a few equipment which incorporate a light-weight golfing umbrella with carbon fiber shaft along with a Kahn key ring.
Please follow and like us: