2012 BUICK LACROSSE
Different with 2011, 2012 Buick LaCrosse equipped with a new and more potent version of its direct-injected 3.6L V6 engine that joins the freshly released standard 2.4-liter four-cylinder engine with eAssist. Sales of the 2012 Buick LaCrosse will start in the U.S. before the end of summer.
2012 Buick LaCrosse with the direct-injection 3.6-liter six-cylinder unit has been upgraded with several new features including a different cylinder head design, larger-diameter intake valves in the heads and new, longer-duration intake camshafts.
Thanks to increased use of lightweight components and other enhancements, the new 3.6L V-6 offers 2012 Buick LaCrosse buyers improved acceleration with no hit to fuel efficiency. In terms of performance, the updated V6 delivers 303-horsepower and 264 lb.-ft. (358 Nm) of peak torque on the front-wheel-drive LaCrosse, an increase of 23-horses and 5 lb-ft respectively over the current engine.
2012 Buick LaCrosse V6 also uses several lighter-weight components including a new integrated cylinder head/exhaust manifold design that save 13 pounds and a new composite intake manifold shaving another 5.5 pounds. The lighter structural front cover and connecting rods help bring the total weight savings to 20.5 pounds or 9.3 kg.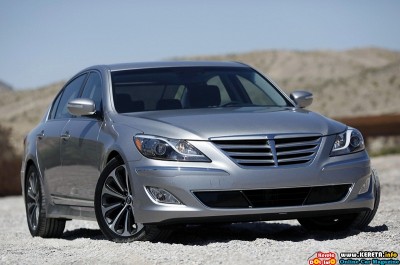 2012 HYUNDAI GENESIS 5.0 R-SPEC
2012 Hyundai Genesis 5.0 R-Spec with features a 429-hp, 5.0-liter version of the company's Tau V8 engine that boasts the highest specific output (85.8 hp/liter) of all naturally aspirated engines in the class. While its torque output peaks at a healthy 376 lb-ft at 5,000 rpm, there are more than 300 of those little pounding feet on hand at just 1,500 rpm. Predictably, this broad torque band provides vivid throttle response at almost any engine speed.
Top speed result is a 0-to-60-mph sprint of about 5.1 seconds, with a gear ratio for any situation you're likely to encounter. Also present on the R-Spec car are specific 19-inch machined-finish alloy wheels shod with Bridgestone Potenza summer tires, a sport-tuned suspension, steering and transmission, and R-Spec badges.
Please follow and like us: