2012 ABT AUDI A6 SEDAN
The German aftermarket specialist, ABT Sportsline proposes a series of power upgrades and a fairly cosmetic make up with various aero parts and new alloy wheel options on the latest generation Audi A6.
The ABT Power offers a body kit that brings subtle modifications to the standard Audi A6, such as revised front and rear bumpers, discreet side skirts, new wheel types and a wraparound boot lid spoiler. ABT's trademark four tailpipes integrated in the rear bumper are also part of the package. Tuning also offers a light alloy wheels proposed for the Audi A6 vary between 19 and 21 inches in size and are especially designed for the large sedan.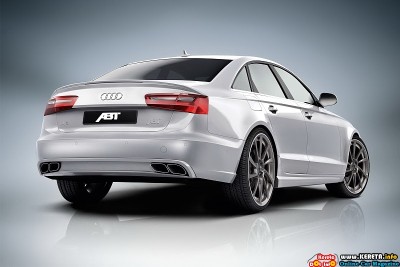 The German aftermarket specialist package adds 37 ponies to the standard 245 horsepower developed by the 3.0-liter TDI engine, for a total of 282HP. The ABT Power S package lifts performance even further, to 310 horsepower, thanks to the mounting of an additional turbocharger. In the Power S version, peak torque reaches 610 Nm (450 lb-ft), up 100 Nm (74 lb-ft) from standard specification.
The engineers are also working on an upgrade for the 3.0-liter supercharged V6 gasoline engine, which will develop 410 horsepower when it's ready, up from the standard model's 300HP.
2011 SMART DISCO BALL
Called the Smart Disco Ball, the special ForTwo was customized by experimental artist formation Apparatjik to be used in their new film, Pixel City. The one-off model was conceived by the experimental artist formation 'Apparatjik' to be used in a film titled 'Pixel City', realized for their current installation at Neue Nationalgalerie in Berlin. The project is brought to a climax by two very unusual live performances on the 26th and 27th of March.
Smart is the official main sponsor in this project by Apparatjik, consisting of world-famous musicians Magne Furuholmen of a-ha, Guy Berryman of Coldplay, Jonas Bjerre of Mew and sought-after music producer Martin Terefe.
The Smart Disco Ball ForTwo is based on a smart electric drive and is covered in reflective glass tiles from the roof to the hub caps. The windows of the Smart Disco Ball are also covered in a mirror finish foil. Smart presents an electric two-seater in a glitzy 'disco-ball' look in Berlin. This smart fortwo electric drive is completely covered in reflective glass tiles from the roof to the hub caps and the windows also feature a mirror finish.
Please follow and like us: