2011 VOLVO MEAN GREEN
Volvo Trucks is now developing a new diesel-electric hybrid version called "Mean Green" to claim the title of the World's Fastest Hybrid Truck in spring 2011. Mr. Ovebrink says "I'd go so far as to say that 'Mean Green' is the world's fastest hybrid truck." The first test runs will take place this month.
Volvo Mean Green started building the truck from two half frames that had been earmarked for the scrap yard and the American VN cab came from a crash-tested chassis whose cab was totally intact.
It's powered by 16-liter Volvo engine, fitted with Volvo Penta twin turbos that increase peak output to a whopping 1,900 hp (1,417 kW). The electric motor adds another 200 hp (149 kW) and 1,000 Nm (738 lb-ft) of torque to this explosive cocktail and can interact with the driven wheels through a modified I-Shift automated gearbox.
In addition, Volvo over weight reduction is crucial when you want to set these kinds of records, so Volvo engineers milled a new, 43 kg (95 lbs) lighter front axle and also removed the gear set for the first gear, as it was rendered useless by the huge amount of torque. That shaved off another 7 kg.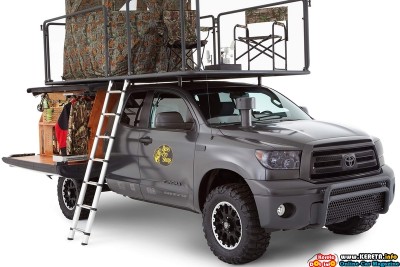 2010 TOYOTA TUNDRA SPORTSMAN CONCEPT
Toyota created conceptual pickup truck "Tundra Sportsman" for SEMA Show 2010. The "Tundra Sportsman" serves two roles: It provides an opportunity to push the creative boundaries of truck utility, and through use of the hunting theme, it reminds consumers of how Tundra and Bass Pro Shops complete the outdoor sports experience.
This vehicle also boasts numerous vehicle performance upgrades that complement the utility and visual enhancements to maximize vehicle capability. Toyota used a 2011 Tundra Double Cab 4×4 equipped with the TRD Rock Warrior Package and 5.7-liter V8 with a six-speed automatic transmission as the canvas for the concept truck.
2010 Toyota Tundra Sportsman Concept Truck Technical Specs
Base Truck: 2011MY Tundra Double Cab 4X4 with the TRD Rock Warrior Package 5.7L V8 with 6-Speed Automatic Transmission
Three-inch suspension lift
Custom exhaust
A custom air intake and snorkel
ATX 18-inch Teflon coated wheels and 33 x 12.5" Nitto Mud Grapplers tires
Custom front "Bull Bar"
Interior
Weather station and GPS
Camouflage pattern all weather Browning branded floor mats
Reupholstered bucket seats in waterproof black and gray material
The stock JBL 10 Speaker sound system remains with JBL all weather outdoor speakers were wired into the bed area; four sets of paired mid-range and tweeter speakers in the shell area; and a sub-woofer mounted under the bed floor.
Bed Modifications
Fabricated bed cap or shell with vertical opening; entire bed side swings out to a 90 degree angle from the truck.
Two steel, locking rifle cases and pistol safe integrated into cabinetry
Foldable work bench
Driver side dedicated to firearms
Passenger side dedicated to bow hunting and camping accessories
Room for two bows and archery accessories is built into the upper cabinet areas.
Closet to accommodate camouflage hunting clothing and foul weather gear
Tailgate dedicated as a Food Preparation Zone
Mobile kitchen includes a small stove, sink, work surface, storage for cooking utensils, and a built-in seven-gallon water tank
86 square foot platform with collapsible hand rails and ladder for use as living/sleeping quarters, hunting blind, 7' x 7' two-man tent, and to safely transport game
Please follow and like us: