2011 STRAND CRAFT LIMOUSINE BEACH CRUISER CONCEPT
In today's highly competitive auto market, one would think there are no new niches left to explore. Well, it's pretty true, except for imaginative individuals like the crew from Sweden's Gray Design, which also penned the Saab supercar.
Enter the world of the Strand Craft Limousine Beach Cruiser, a vehicle that looks like a crossover between a limousine, a convertible and a yacht – yes, you read correctly, a yacht. Essentially a beach shuttle, the Stand Craft has been conceived for luxury hotel chains willing to offer their clients premium service. More specifically, to carry six passengers from the hotel to the nearest beach as fast and as comfortable as possible.
To keep the passengers entertained until they arrive at the beach, the Limousine Beach Cruiser is fitted with a 15-speaker Naim sound system that has a 1100 Watt amplifier to ensure the best audio quality even when the canvas roof is opened. Finally, the car is powered by a 6.0-liter Chevrolet V8 engine with 400 horsepower, enough to offer the car a top speed of 220 km/h (137 mph). The eight-cylinder unit is linked to a Haldex-based all-wheel drive system.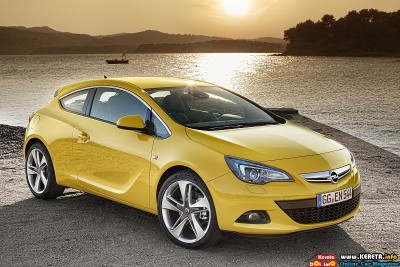 2012 OPEL ASTRA GTC
At the International Motor Show in Frankfurt, Germany to 64, in mid-September, General Motor introduced the new Opel Astra GTC. The newest member of Opel's ever-growing Astra family will go on sale across Europe including the United Kingdom where it will be available as a Vauxhall later this year.
The production version of last year's Paris Motor Show concept GTC sports a far more athletic appearance than the rest of the Astra range thanks to the uniquely designed body that includes a more rakish roofline. According to Opel, the only elements the GTC shares with its five-door and estate siblings are the door handles and roof aerial as even the wheelbase and tracks are different.
Compared to the five-door Astra, the ride height of the GTC is lowered by 15 mm while the wheelbase grows by 10 mm, from 2,685 to 2,695 mm and both tracks are wider, at 1,584 mm (+ 40 mm) in front and 1,588 mm (+ 30 mm) in the rear.
At the rear, the GTC continues to use a Watt's link axle, while as an option, Opel offers the fully-adaptive FlexRide chassis control system with a choice of three settings.  Standard, Tour or Sport. For now, diesel options are limited to a 2.0-liter CDTI common-rail turbo unit delivering 165HP and 380 Nm of torque in overboost function. It is fitted with a diesel particulate filter and a six-speed manual transmission, plus a new Start/Stop system. With this engine, the GTC can reach 100 km/h (62mph) in 8.9 seconds en route to a top speed of 210 km/h (131 mph), while returning a combined fuel consumption of 4.9 lt/ 100 km (48 mpg US or 57.7 mpg UK) with corresponding CO2 emissions of 129 g/km.
Please follow and like us: