2011 EDO PORSCHE MOBY DICK
Edo Competition chose the white Porsche Panamera to create benefits from a hefty power boost as well as modifications to the exterior and interior, named Moby Dick. The tuner turned at exterior to Mansory for a full bodykit, which includes restyled bumpers, widened wheel arches, lowered side skirts and a new bonnet. However, the aerodynamics package is just the prelude for what lies underneath.
Exterior upgrade starts to lowering module for improved handling, as well as 22-inch wheels that can be painted either to match or to contrast the car's exterior color.
In interior, the tuning firm used a combination of materials including leather, wood, metal and carbon fiber.
Under bonnet McCoy there, twin-turbocharged V8 engine, which now produces 750HP, up from stock model's 550HP. Edo Competition says the Moby Dick can accelerate from standstill to 100 km/h (62 mph) in under 4 seconds and achieve an electronically limited top speed of 340 km/h (211 mph).
As part of the 2011 Edo Porsche Moby Dick's engine conversion, turbocharged Panamera also comes withan upgraded exhaust system.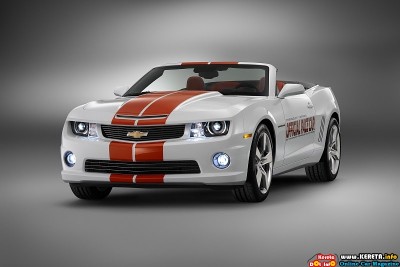 2011 CHEVROLET CAMARO SS CONVERTIBLE INDY 500 PACE CAR
Chevrolet and Indianapolis Motor Speedway officials made the announcement at the Barrett-Jackson Scottsdale classic auto auction to sell a special-edition Chevrolet Camaro SS Convertible, where a bidder will have the opportunity to purchase the first of 50 A special-edition Chevrolet Camaro SS Convertible Indianapolis 500 Festival Committee cars.
The Chevrolet Camaro SS Convertible will serve as the official pace car of the 2011 Indianapolis 500. Chevrolet will donate full proceeds of the auction to the David Foster Foundation, a charity devoted to supporting families with children in need of life-saving organ transplants.
Features a Summit White exterior accented with orange stripes and door graphics. The interior is trimmed in orange leather, including front seat headrests embossed with the Indy 500 logo, along with white door panels and instrument panel trim. The instrument panel trim features extensions of the orange exterior stripes. It is similar to the design used on the 1969 Camaro Indy pace car.
Powered by a 400-horsepower (298 kW) V-8 engine and six-speed automatic transmission, the actual pace car for the race requires no performance modifications to perform its duty in front of the racing field.
2011 Chevrolet Camaro SS Convertible Indy 500 Pace Car fitted with the 2SS equipment package, offering the following standard features:
Four-wheel disc brakes with Brembo four-piston calipers and hydraulic assist
StabiliTrak electronic stability control
Competitive/sport mode that enhances on-track performance
Performance Launch Control (with the manual transmission) that optimizes hard-acceleration launches for quicker, more consistent performance
Twenty-inch polished aluminum wheels and performance tires
Head-up instrument display
Center console with auxiliary gauge package.
The top has a smooth, tailored fit, with acoustical foam in the headliner that helps deliver a quiet ride with the top up.
Please follow and like us: