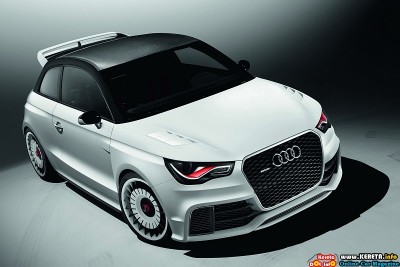 2011 AUDI A1 CLUBSPORT QUATTRO CONCEPT
The Audi A1 clubsport quattro is a one-off vehicle built to the limits of technology for breathtaking dynamics. Audi is presenting the showcar in Reifnitz, in the Austrian state of Kärnten, at the Wörtherseetour 2011. The 30th edition of this major meeting for Audi, Seat, Skoda and VW fans takes place last  June 1 – 4, 2011.
The Audi A1 hatchback uses a heavily modified version of the 2.5-liter turbocharged five-cylinder petrol engine found in the TT RS and the RS3 Sportback. The five-pot normally produces 340-horsepower and 450 Nm (331.90 lb-ft), but thanks to the systematic tuning of the turbocharger, intercooler, induction tract and the exhaust, output has been boosted to 503-horsepower and 660 Nm (487 lb-ft) of torque.
The A1 Clubsport Quattro concept can go from 0 to 100km/h (62mph) in 3.7 seconds, and from 0 to 200km/h (124mph) in just 10.9 seconds. The 50-70mph (80-112km/h) overtaking can be completed in fourth gear in 2.4 seconds. The car's top speed is electronically governed at 250km/h or 155mph.
The car is finished in a Glacier White matte paint finish contrasted by high-gloss black roof arches with the roof itself made of carbon fibre-reinforced polymer (CFRP). The front wings, the doors and the rear side panels of car have been widened by a total of 60 millimeters (2.3-in.), while it also sports a new front bumper and grille assembly, a vented hood, side exhaust outlets, a large roof wing, a bespoke rear bumper with a diffuser and unique mirrors.
2012 HONDA CIVIC SEDAN
Above is images of 2012 Honda Civic in both four-door sedan and two-door coupe guise.  However, it is possible that Honda will offer the four-door saloon model in certain European countries to compete against the Volkswagen Jetta.
Given that the European market will get its own, bespoke version of the Civic, chances are that Honda simply wanted to cover its back like most of the competition just in case another automaker . With the exception of one version of the Civic sedan seen in this set of images and which features slightly modified taillights with additional strips that extend towards the license plate holder, there are no other differences compared to the North American Civic.
While Honda Civic compact European version will make its world premiere at the upcoming Frankfurt Motor Show in September. It will be available in five-door and three-door body styles, while the Japanese automaker has also confirmed the development of a smaller displacement turbo diesel engine that will fit right under the current 2.2-liter i-DTEC unit.
Please follow and like us: