2010 HONDA BRIO CONCEPT
2010 Honda BRIO Concept is being developed with Honda's advanced technologies, while further advancing Honda's "man maximum, machine minimum" concept. The new small-sized vehicle developed for Asian markets and scheduled to be introduced in Thailand and India in 2011
With this vehicle, Honda thoroughly pursued the creation of an advanced exterior form, which is compact while asserting a strong presence. Being developed as a commuter which is easy-to-use even in urban areas, the Honda BRIO prototype adopts an easy-to-handle compact body (length 3,610mm x width 1,680mm x height 1,475 mm) while ensuring enough cabin space achieved by highly efficient packaging.
Moreover, with this vehicle, Honda will leverage the resources Honda has cultivated through its motorcycle business and utilize local sourcing of parts and materials such as sheet steel. Honda will develop unique versions for Thailand and India to reflect different customer needs in those markets.
2011 NISSAN LEAF – COTY
Good news, the jury of the 2011 European Car of the Year Award (COTY) announced that the Nissan Leaf is the winner, earning a total of 257 points. This is the first time in the 47-year history of the competition that the award goes to an electric vehicle.
2011 Nissan Leaf is a plug-in EV, it powered by 80 kW (107 hp) AC electric motor that's fed by a Nissan-developed laminated lithium-ion battery. The EV accelerates from standstill to 100 km/h (62 mph) in 11.9 seconds and it has a driving range of 175 km (109 mph.)
This award recognizes the pioneering zero-emission Nissan LEAF as competitive to conventional cars in terms of safety, performance, spaciousness and handling. It also reflects Nissan's standing as an innovative and exciting brand with a clear vision of the future of transportation, which called sustainable mobility. With three other electric vehicles in the pipeline from Nissan  and with the imminent market introduction of four additional electric vehicles from our Alliance partner Renault. Nissan LEAF represents a significant first step toward a zero-emission future.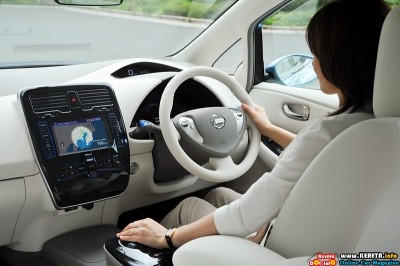 Please follow and like us: