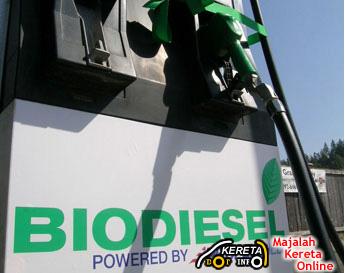 Biodiesel Pump
The Biofuel industry in Malaysia hampered by the high cost of transportation and processing. Hopefuly that the implemention target which is next year will be successful.
Read the detail news from Bernama below:-
SUCCESSFUL USE OF BIOFUEL HAMPERED BY TRANSPORT, PROCESSING COSTS
The main challenge facing the biofuel industry is transport and processing costs, said the Minister of Plantation Industries and Commodities Datuk Peter Chin Fah Kui.
Speaking after his keynote address at the Asian Biofuels Roundtable 2009 here today, he also said government support was crucial for the successful use of biofuel in the country while making it more cost-effective and competitive when compared to fossil fuel.
According to Chin, while there was at present a requirement by the government on B5 or the blending of five percent biofuel (methyl ester) with petroleum diesel, its implementation was hampered by the cost of transportation and processing.
This he explained, may be high, especially if the biodiesel plant and station is located at a distance from the end user.
"The mandatory use of the B5 is being carried out in stages starting from Feb 1. Government vehicles are showing the way, to be followed by the industrial and transportation sectors.
"Full implementation is targeted by 2010," he said.
Chin said currently the mandatory B5 requirement covered most of the Klang Valley, involving mainly the diesel fuel vehicles of Kuala Lumpur City Hall, the Ministry of Health and the Ministry of Defence.
"We are also looking forward to adopting the use of B5 in Sabah," he said.
Chin said while oil companies had shown support for the use of B5, they are concerned about the processing costs.
Chin also indicated that there is a necessity to upgrade current palm oil mill technology, as most are still using that from the seventies and eighties.
Technology upgrade, he said, is especially critical in importing to the European Union (EU) countries.
"The EU Directive on Renewable Energy specifies targets for biofuels and has qualifying provisons that are burdensome to comply with.
"These conditions impose barriers for the importation of biofuels into the EU countries, particular palm-based biodiesel," he added.
With new techology, a palm oil mill is able to produce better quality fuel with less emission of greehouse gases, said Chin.
"We will set a date for a dialogue with the Palm Oil Institute of Malaysia in targeting for palm oil mill upgrades," he added.
Chin's keynote address at the Roundtable was titled, "Biofuels – Issues, Challenges and Prospects".
Meanwhile, the Brazilian ambassador Sergio Arruda said at the same function that the Federal Land Development Authority (FELDA) and Brazilian partners, will set up a palm oil plantation and production plant at Tefe, a city and river port in the north west of the country.
He said the plantation would start off with an initial size of 30,000 hectares this year and increase to 100,000 hectares in the future.
Please follow and like us: