Here i would like to share useful info regarding basic car maintenance (asas penjagaan kereta dan baikpulih) which is very important for us as car owner. I know that many of us take for granted of this matter. What they know after buying a car is only fill up fuel and service their car periodically and the worst case, some of us did not even care about the periodic service (waktu servis kereta berjadual).
BASIC CAR MAINTENANCE GUIDE – PANDUAN ASAS TIPS PENJAGAAN PENYELENGGARAAN KERETA
So, here are the lists of what to do and what you really need to do. If there is any missing tips, please share in the comment section so we can discuss and help others.
Basic car service at manufacturer authorised service center
Info Asas servis kereta di pusat servis kereta bertauliah
– 1st 1000km after you get your car – Don't drag until more than 1500km. Send your car to service center immediately.
– Minor service every 5000km if you use mineral base engine oil or every 7000-8000km if you use semi synthetic or every 10000km if you use fully synthetic engine oil. Depends on the car. Some car can use semi synthetic up to 10000km. Please refer manual handbook of your car together with the service booklet.
– Major service = minor service + change gearbox transmission oil and other inspection and replacement if needed. Usually Auto transmission car need to change every 30k km to 40k km while manual transmission every 40k which is longer time. This is important especially for auto transmission as the gearbox is very sensitive and needs oil replacement more frequently.
Car Self service / monitoring for basic car maintenance :
Penjagaan kereta sendiri dan pemeriksaan kereta
– Radiator coolant fluid level (cecair penyejuk radiator enjin) – Check frequently at least once a month. Refill with special coloured (ie. red, green) coolant fluid or with distilled water if the fluid level go down below full. Check also coolant existance at the radiator cap.
– Engine oil level (minyak enjin) – Take out the dipstick oil level and check the level when your engine is not running. Make sure it is near full. If not, it must have some leaking there or you already exceed the service mileage. The engine oil dipstick handle colour usually in yellow or orange.
VIEW MORE IMPORTANT CAR CARE MAINTENANCE TIPS >>
– Brake fluid level (minyak brek) – monitor the brake fluid and make sure within min and max range.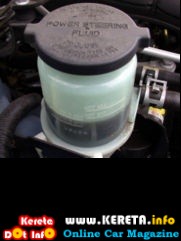 – Power steering fluid (Minyak power steering) – Check together with all the fluid above.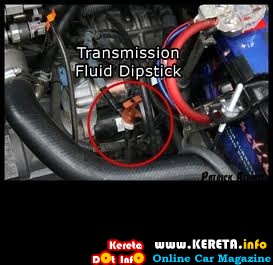 – Transmission / gearbox oil level – This one many of us forgot to take a look. Make sure you frequently check the level especially when you are going to make a long distance journey. The dipstick is near the gearbox in pink or red or white or black colour of the handle
– Battery fluid level (Air Bateri) – for non maintenance free battery, you need to check at least once a month. Make sure battery fluid level maximum. Use torch light to assist you for battery fluid level inspection. If not, open up the battery refill cap and pour battery fluid / water where you can get it at any car parts shop or any petrol station with the cost of around RM2 only.
– Windshield washer / wiper fluid / water (air pencuci cermin) – Make sure enough content of wiper fluid. Fill up with normal water.
– Clean up any deposit at the battery terminal. Usually white powder.
– Check any obstruction or any broken wires inside the engine bay.
That is all for Do It yourself car maintenance on the engine side which you must do every month to ensure your engine runs properly and prolong engine life.
Car exterior maintenance :
Panduan pemeriksaan dan penjagaan bahagian luar kereta
– Check tyre pressure at least once a month. (pemeriksaan tayar) Inflate your tyres according to the recommended pressure of your tyre usually stated near the car door. This is very important.
– Check if there is any damage on your tyres such as bad wear, cuts, uneven wear, any sharp object or any obvious damage.
– Wash your car (basuh kereta) at least once a month especially for those who always park your car outside and oftenly exposed to dirt. Do not leave the dirt accumulate as it may damage your car body paint and can cause corrosion.
That is all for now and I will add more later if there is any important tips that i missed or if there is any info update from you guys.
Hope this will help all car owners and especially new car owners to take care of your car very well.
Please follow and like us: