2010 FORD FOCUS RS – Front View

The 2010 Ford Focus RS, set for showrooms in April of this year and will be offered to more than 20 European countries including Russia, has just begun coming out of the production lines in Ford's Saarlouis factory in Germany. Ford predicts that UK, Germany and Switzerland will be the highest volume outlets of the new Focus.
The Saarlouis plant already builds the three and five-door versions of the Focus hatchback, wagon and sporty ST models, and for the new RS a special team was set-up to specifically install a number of unique exterior and interior design details. These include new body parts to incorporate wider wheel arches and a wider track, complemented by revised, deeper side rocker mouldings and custom front and rear bumpers.
2010 FORD FOCUS RS – Duratec 2.5L
Final specs on the vehicle will include 300 hp (223 kW) and 325lb-ft (440 Nm) of torque generated by its Duratec 2.5L powerplant. Acceleration rate is 0-100 km/h (0-62 mph) in 5.9 seconds with a maximum speed of 264 km/h (164 mph).
2010 FORD FOCUS RS – Rear View

The Focus RS will be available with three colour options, including Performance Green, Indianapolis Blue & Frost White.
"We are excited that a new RS-badged Ford performance model is back in our portfolio and that production at Saarlouis is starting on schedule," said John Fleming, Ford of Europe Chairman and CEO. "We've had a huge amount of interest in this model from the loyal army of Ford RS enthusiasts as well as potential customers who have never owned an RS before. I am confident that they will fall for it the moment they get behind the wheel."
2010 FORD FOCUS RS – Side View

When it's launched later this year, the new Focus RS will mark the return of the storied Ford 'RS' badge, last seen on the first-generation Focus RS in 2002 and with a heritage stretching back 38 years including Fiesta, Escort and Sierra models.
2010 FORD FOCUS RS – Interior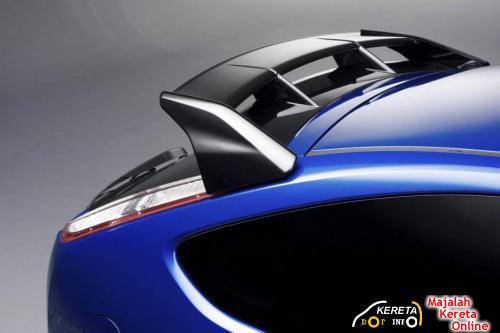 2010 FORD FOCUS RS -Spoiler
2010 FORD FOCUS RS
2010 FORD FOCUS RS
Please follow and like us: