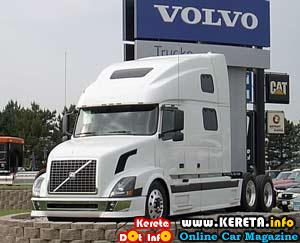 Volvo Malaysia will integrate Volvo and Renault truck business in Malaysia and let Tan Chong handle the Nissan Diesel truck business here. This new strategic idea is to improve sale of their truck that have contributed to the major profit for Volvo last year. Read more news from Bernama below
VOLVO MALAYSIA NEW TRUCK BUSINESS INTEGRATION
VOLVO Malaysia will integrate its truck business while focusing on adjusting production rate and cost structure, and reducing inventory amid the gloomy economic situation.
"This is not the first time the group has experienced a downturn. There will be an upturn but in the meantime we will be more focusing on these three main areas," said the group's senior vice president Par Ostberg, who is also Volvo Trucks Asia chairman.
"For Malaysia, we are working on integrating the Volvo and Renault truck businesses while the Nissan diesel truck business will be managed by our partner Tan Chong Industrial Equipment Sdn Bhd," he said.
Focus of the integration exercise is to ensure that the group has an efficient distribution and manufacturing set-up in the region, Ostberg said today.
 
"We are happy with the way the integration exercise has gone so far and it has been very smooth in Asia," he said.
Ostberg said the group would not be making any new investment in Asia at the moment as it was currently in a consolidation phase after a period of rapid growth.
Earlier, the group had spent about US$3 billion in acquisitions, mainly in the region, he said.
"With the acquisition of the Nissan diesel truck business, the synergy target of 200 million euro after the five-year period will be a clear indication of the savings that can be achieved under the integration process," Ostberg said.
"The integration started basically two years ago and is about combining good business in Asia to better business. The way we perform is very important to the group, given that the Asian region contributes about 20 per cent to the group's turnover," he said.
Last year, the company recorded an all-time high in terms of sales and profit, but the markets since then have been deteriorating.
"We have seen a number of measures taken by the governments all around the world to stimulate the markets but so far, there are very few signs that show the situation has improved," Ostberg said.
However, he said, the outlook for the region still remained positive.
The group recorded US$300 billion in turnover globally last year, with the truck and maintenance business contributing US$40 billion.
 
Please follow and like us: