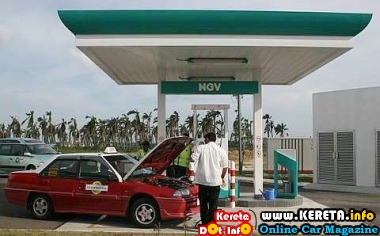 Petronas to build 200 stations equipped with NGV facilities by end of 2010.Read the full news by Joseph Kaos Jr from the MalayMail below.
MORE NGV-EQUIPPED STATIONS IF THERE IS MORE DEMAND.
KUALA LUMPUR: The government will increase the availability of natural gas for vehicles (NGV), if there is an increase in public demand for it.
"I assure you, if there is a high demand for NGV, the government will definitely step up its effort to make NGV available for the consumers," said Deputy Domestic Trade, Co-Operative and Consumerism Minister Datuk Rohani Abdul Karim.
"The door is not closed for NGV, but there has to be a demand and a need for it," Rohani told the Dewan Rakyat this morning.
"As for now, it is still an open choice for the consumers," she added. Rohani was responding to a question by Johari Abdul (PKR–Sungai Petani).
"NGV is a very good alternative to petrol, especially in light of the ever-increasing petrol prices," Johari had said earlier.
"However, it is difficult to find petrol stations equipped with NGV facilities. It doesn't seem like the government is serious in supporting the campaign to use NGV."
Rohani said there are currently 144 NGV-equipped stations in the country, with 86 of them within the Klang Valley. The stations cater to approximately 44,156 NGV users nationwide – with 99% of the users being taxi drivers.
"We are targeting to have 200 stations equipped with NGV facilities by end of this year," said Rohani.
She said the government appointed national oil and gas company Petronas as the lead player in providing NGV to users.
"Since 2007, Petronas has spent RM535 million in subsidies for NGV. The actual gas price is RM2 per litre, but with the subsidy, consumers are able to enjoy it at 68sen per litre."
Rohani said a full tank for a car using NGV costs about RM12, which is good for at least 300km – hence the reason it is popular among taxi drivers as a cost-saving alternative to petrol.
On why there are not many NGV-equipped petrol stations around, Rohani said there are many factors that needs to be considered before furnishing a station with NGV facilities, such as profit and loss factor, terrain aspects and even the risk of explosion-like mishaps.
Please follow and like us: