Renault had unveiled the Fluence Z.E Concept in the 2009 Frankfurt Motor Show together with the other three Renault electric concept car.In the 2010 Geneva Motor Show we have the opportunity to snap some pictures of the Renault Fluence Z.E Concept.The Fluence ZE already draw the biggest interest and have the most immediate impact on the automotive market.
The Fluence Z.E. Concept is a four-door electric sedan that can travel up to 160 kilometers on a single charge. Renault has incorporated a few interesting charging methods including a 20 minute recharge and the very fast 3 minute quick charge options that will allow you to travel from 4 to 8 hours depending on the power outlet's voltage.
Fluence ZE Concept is powered exclusively by an electric motor located near the front axle that is powered by a lithium-ion battery positioned between the rear seats and the trunk. The concept rides on 21 inch wheels and the interior features video screens and a triple-zone climate control while LED lights on both the front and rear of the vehicle add to the concept's Atmosphere Blue body color.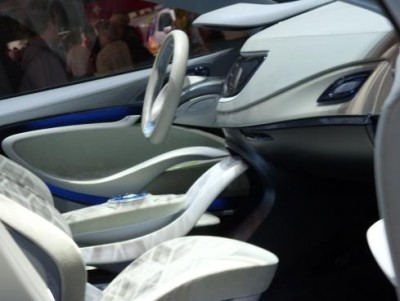 Inside there's seating for four, the driver gets gel-covered pedals, and the passengers get blue translucent gel mats to rest their feet on. A TFT touchscreen controls all the important equipment, while the central armrest features the start button, the air-con controls and a Samsung phone.The petrol-powered Fluence is based on the Samsung SM3 saloon – which can relay video to screens built into the front seatbacks. The video images from the external cameras are displayed in the front doors.
Fluence Z.E. Concept is not respectful of the environment simply because it runs on electricity. Indeed, the entire car has been thought through to optimize energy use:
* the photovoltaic cells meet part of the car's energy requirements with a view to complementing the power supplied by the battery,
* the headlights use high-performance electroluminescent diodes which deliver an excellent trade-off between efficiency and energy consumption,
* the triple-zone climate control system allows occupants to achieve just the right settings for the two seats at the front and at the rear. The air vents also feature a dynamic lighting code, with blue representing the passage of cold air and red representing warm air,
* the car's aerodynamics have been meticulously honed to minimize drag, including streamlined rear-view mirrors with integrated rearward facing cameras, a completely enclosed underside incorporating a diffuser at the rear, and spiral-form wheel rims,
* Fluence Z.E. Concept runs on low rolling resistance Michelin tyres.
Please follow and like us: