2011 FORD F-150 SVT RAPTOR
2011 Ford F-150 SVT Raptor powered by an updated version of the regular F-150's 5.4-liter Triton V8 three-valve engine, delivering 320 horsepower and 390 pound-feet of torque. Also available will be a new 6.2-liter Boss V8 engine recently developed by the automaker, deliver 400 hp and 400 lb-ft of torque. It used a 62-mile durability loop in the desert of Borrego Springs, California, to replicate the conditions of the Baja 1000 race, to further test the performance of both available engines.
The suspension dampers of F-150 SVT Raptor designed by Fox Racing Shox, giving the Raptor the only internal bypass shocks on a street truck. The position sensitive dampening internal bypass feature allows the shock to become significantly stiffer as it travels, preventing the truck from bottoming out.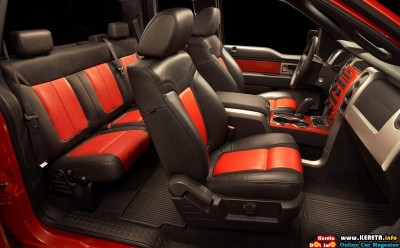 It has last component of the Raptor's connection to the ground comes in the form of BF Goodrich All-Terrain TA/KO 315/70-17 tires. Mounted on 17-inch wheels, these 35-inch tires are designed to work on- and off-road.
In addition it is equipped high-tech features include: Trailer Sway Control, an Integrated Trailer Brake Controller, an Electronic Locking Differential, Hill Descent Control, an Off-Road Mode, and an Auxiliary Switch Board to facilitate aftermarket add-ons.
2010 CHEVROLET SILVERADO HYBRID
2010 Chevrolet Silverado Hybrid has a bed, four-wheel drive and a meaty V8 up front also added packs an electric motor and a mammoth battery pack.
The Silverado Hybrid interior is identical to the standard Silverado. Up front, the seats are comfortable enough for short stints, but start to become uncomfortable after two or three hours on the road. One of the Silverado Hybrid's big strengths is its ability to carry up to six passengers thanks to a center console that converts into a middle throne.
GM has mated its tried-and-true 6.0-liter V8 to a two-mode hybrid system for a combined 332 horsepower and 367 pound-feet of torque.
The Chevrolet Silverado Hybrid can drive up to 30 mph on all-electric power thanks to twin electric motors mated to a variable planetary gear system in the four-speed automatic transmission, and a 300 volt nickel-metal hydride battery pack serves up all the necessary power. GM has also fitted the big V8 with a few fuel-saving tricks, including cylinder deactivation and an auto-stop system, and the result is an EPA-rated 21 mpg city and 22 mpg highway.
The Silverado Hybrid is plenty comfortable to drive, though. The brakes are more than competent and power from either the electric motors or the big V8 is plenty for any sort of driving scenario. The auto-stop for the engine shuts down smoothly enough, and the 6.0-liter mill comes to life with the same kind of show that accompanies starting any V8.
Please follow and like us: