We have gathered all samples of RON95 petrol from each brand to see the physical differences especially the colour. We also done a burning test on each petrol to see how long does it take for the petrol to be burned until finish. Here we attach the video of burning each petrol samples and the time is recorded below the video. Thanks to KDI readers Wan10 for giving us the ideas to collect all the petrol samples.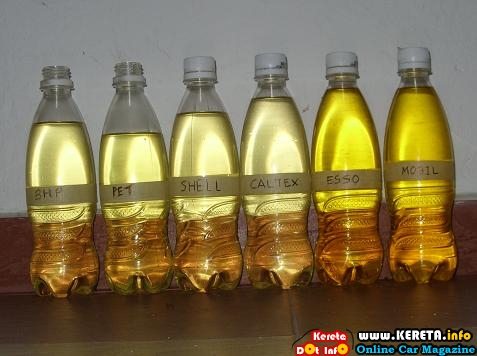 DIFFERENCES OF RON 95 PETROL PROPERTIES FROM BHP PETRONAS SHELL CALTEX ESSO MOBIL 
From the physical properties, the colour of each brand have some differences and an obvious difference is from the Esso and Mobil brand which is from the same company producing a yellowish colour of RON 95 petrol.
While Petronas has the greenest colour of its RON95. BHP have clear with slightly green colour while the most clear or transparent petrol is from Caltex. 
Below are the burning test of each petrol brand. The method is by using standard bottle cap of 100 plus, we fill up the cap with specified petrol until overfill and put it on a metal area for burning process then light it up with lighter just after it is put there.
Then we monitor the result. Note that this burning process is done  in an uncontrol environment and just for our fun test not for any review etc.
BHP RON 95 30.53 SEC
The BHP petrol have biggest fire among other petrol brand.
PETRONAS RON95 35.57 SEC
Petronas have the smallest fire produced
SHELL RON95 31.59 SEC
Shell is the most easy to catch fire. It starts the fire even when the lighter is from far
away.
CALTEX RON95 25.36 SEC
ESSO RON95 26.04 SEC
MOBIL RON95 26.44
MOBIL RON95 26.44 SEC
ESSO RON95 26.04 SEC
CALTEX RON95 25.36 SEC
SHELL RON95 31.59 SEC
PETRONAS RON95 35.57 SEC
BHP RON 95 30.53 SEC
According to time taken for the petrol to be burned until no fire, the Mobil and Esso seems to have same petrol properties.
While surprisingly, petronas petrol RON95 can sustain fire in the longest period which is 35.57 seconds followed by Shell at 31.36 sec and BHPetrol at 30.53 sec. The least time for petrol burning is caltex RON95 with 25.36 sec
I am not going to make any conclusion about the differences due to that I am not an expertise in Petrol industries. But for those out there who knows may share your thoughts here.
Share and Enjoy