Speed bump is one of the most irritating thing to hit you while you were driving.Speed bump are meant to slow cars down but it also can cause accident (talking from experience here). Other than slowing cars down, the speed bump will give stress to your suspension system and will slowly damage it. For cars with sportier / lowered or harder spring its such a pain in the ass to go through all this speed bump.
As we all know, Malaysia road condittion is not very good. There are potholes everywhere, especially n Subang Perdana ;).With the addition of the speed bump, especially the homemade one. Our car suspension system  will be gone in no time. Something need to be done.
What could be done? Designers Jae-yun Kim & Jong-Su Lee say it's time to move on! No more of this silly giant bumps in the road when we could advance!
So what do they do?
They make a speed bump that's based on retractors that open if the impact with them is small enough. These speed bumps can be configured so that if a car is going below 30km/h, the speed bump flattens; over 30km/h, the force causes the retractor to stay closed, keeping the speed bump active.
This is a smart one, people will be encouraged to slow down to avoid such a bumpy ride.This will reduce the suspension wear and tear, and reduce exhaust emission by slowing down and accelerating again.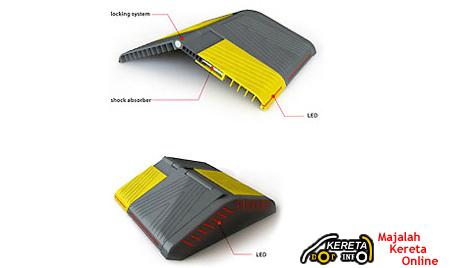 Another imaginary option of the speed bump would be the imaginary painted speed bump. :)
Please follow and like us: