This are the rare MPV model imported to Malaysia. The Honda Edix FR-V which is a 6 seater unique MPV with 3+3 seat arrangement, the Toyota Isis 7 seater large MPV and the Nissan Presage which is more expensive than the other MPV listed above. The price of those MPV unregistered in Malaysia is between RM109,000 to RM150,000. Below are the specification of those rare MPV.
 RARE MPV – HONDA EDIX FR-V VS TOYOTA ISIS VS NISSAN PRESAGE
HONDA EDIX FR-V SPECIFICATION
The Honda FR-V (Honda Edix in Japan) is a six-seater compact MPV introduced by Honda in 2004 and marketed until 2009. Alongside the Fiat Multipla, it is currently one of only two compact minivans with a 3+3 seating configuration available on the European market.
The FR-V is available with three gasoline and one Honda diesel-powered engine.
1.7 i-VTEC – 125 hp (93 kW) at 6300 rpm and 154 N·m (114 lb·ft) 4800 rpm
1.8 i-VTEC – 138 hp (103 kW)
2.0 i-VTEC – 150 hp (112 kW) at 6500 rpm and 192 N·m (142 lb·ft) at 4000 rpm
2.2 i-CTDi – 140 hp (104 kW) at 4000 rpm and 340 N·m (251 lb·ft) at 2000 rpm
The 1.7 i-VTEC and 2.0 i-VTEC were replaced in spring 2007 by a new 1.8 i-VTEC from the Civic compact hatchback. At the same time some minor cosmetic changes were made (carbon effect interior, light cluster, and darker front grill).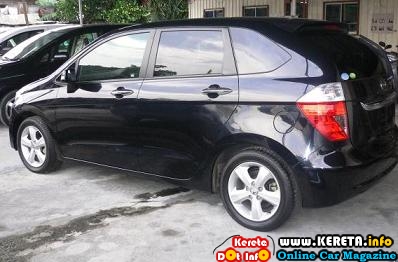 Euro NCAP 4
0-60 mph (secs) 10.1
Front Headroom (mm) 1036
Rear Headroom (mm) 955
Front Legroom (mm) 1035
Rear Kneeroom (mm) 761
Height (mm) 1610
Width (mm) 1810
Length (mm) 4285
Kerb Weight (Kg) 1584
Max. Boot Space (Litres) 1049
Min. Boot Space (Litres) 439
No. of Doors 5
No. of Seats 6
Service Intervals (Miles) 12,500
Tank Capacity (UK Gallons) 12.75
Turning Circle (m) 10.5
Accessories: Solar Film, CD Player, Leather seats, Airbag driver, Airbag passenger, DVD Player, Navigation system, ABS Brakes, Sport rims, Alarm, Central lock, Adjustable steering
Price: RM 109 900
TOYOTA ISIS MPV SPECIFICATION
The Toyota Isis is a seven-seat large MPV manufactured by Kanto Auto Works under contract for Japanese automaker Toyota. It is sold only in Japan and was launched in September 2004. It features sliding doors and is available with either front or four-wheel drive and straight-4 1.8 and 2.0-litre gasoline engines.
The Isis uses a unique approach to the sliding doors in that the front passenger door and the rear passenger sliding door interlock together when closed, instead of having a door jamb that the doors attach to. Toyota calls this on the Japanese Wikipedia article "Panoramic Door". This door system is used only on the passenger side. The doors on the drivers side attach with a conventional door jamb. The front passenger seat can be folded flat upon itself and then tilted forward to further provide passenger access. The doors also interlock into the top and bottom door openings so that both doors can be opened independently of each other.
Production 2004-present
Engine(s) 1.8 L 1ZZ-FE I4
2.0 L 1AZ-FSE I4 direct injection
Transmission(s) CVT (Super CVT-i)
4-speed automatic (Super ECT)
Length 4,640 mm (182.7 in)
Width 1,710 mm (67.3 in)
Height 1,670 mm (65.7 in)
Curb weight 1,560 kg (3,439.2 lb)
Maximum power
(JIS net) 155.1 PS (153 bhp) (114.1 kW)
@ 6000 rpm
Specific output 76.6 bhp/litre
1.25 bhp/cu in
Maximum torque
(JIS net) 192.0 Nm (142 ft·lb) (19.6 kgm)
@ 4000 rpm
bmep 1207.6 kPa (175.1 psi)
Specific torque 96.1 Nm/litre
Price: RM 123 900
NISSAN PRESAGE SPECIFICATION
The Nissan Presage is a large MPV produced by Japanese automaker Nissan since 1998. The Presage is only officially sold by Nissan in Hong Kong, Singapore, Brunei and Japan.
The name "Presage" is French for "anticipation"
The second generation Presage debuted in 2003 with a transformable seven or eight seat configuration. Rear side doors were changed from swinging to sliding. The new Presage is built on the L-class platform, which is also used for the Teana mid-size car.
Engines are also taken from the Teana, a 2.5-litre four-cylinder and a 3.5-litre V6 gasoline engine. These engines are mated with a four-speed automatic transmission or a sequential CVT.
The main advantage of the second generation of this Japanese car is its comfortable and transformable interior. For easier reversing, there is a rear view camera. As before, a sporty trim level dubbed Highway Star is available.
Production 2003-2009
Body style(s) 5-door MPV
Layout FWD / AWD
Platform Nissan FF-L platform
Engine(s) 3.5 L VQ35DE V6
2.5 L QR25DE I4
Transmission(s) 4-speed automatic (E-ATX)
CVT
Wheelbase 2,900 mm (114.2 in)
Length 4,870 mm (191.7 in)
Width 1,825 mm (71.9 in)
Height 1,695 mm (66.7 in)
Curb weight 1,860 kg (4,100 lb)
Price: RM 148 000
So, which one attract you the most? Edix vs Isis vs Presage?
Please follow and like us: