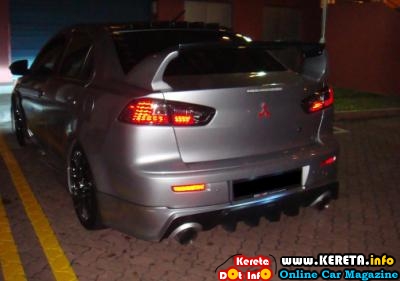 Nowadays, we can see that there are so many aftermarket design of LED tail lamp in Malaysia.We have already seen a Waja with BMW styled tail lamp, a Wira and also a Vios with aftermarket LED tail lamp and many more.But for today we will show you two types of LED tail lamp that will make your Inspira / Lancer even better and different than the other Inspira / Lancer on the street.
Audi Styled LED tail lamp
Clear red & Smoked red.
In the Inspira and Lancer forum, there are a lot of people already talking about these LED tail lamps.Some people are loyal to their car and think the stock one looks better, and some people can't wait to get these LED tail lamps installed. Most of them also already know on how to get these awesome LED tail lamp with better price.
Advantages of LED tail lamp:
High Intensity/brightness with Low Power (wattage) draw
Built-in current limiting resistors
Shock & Vibration Resistant
Longer Life (10,000+ hours)
Low Heat Generation
Instant ON/OFF
Monochromatic (pure) Color
Better night visibility than your stock lights.
Estimated Price: Rm1299
Please follow and like us: