Mazda RX7 is the legendary sports car which uses powerfull rotary engine from Mazda. Eventhough it has been replaced with Mazda RX8, the RX7 can be said as an evergreen sports car which has a very unique rear design and overall body shape. Featured here are the two modified Mazda RX7 with wide bodykit and extreme make over.
 MAZDA RX7 VEILSIDE FORTUNE WIDE BODY KIT MODIFICATION
The veilside design fitted on the Mazda RX7.
This two Mazda RX8 is actually on sale. The two RX7 is specially painted in light green and blue. The top part from front to rear is painted in black
The sport rims in fluorescent green just like the body paint colour which is very attractive and has a very outstanding appearance.
Price of Mazda RX7 veilside modified version : RM139 800 
Mazda RX-7 FD3S Veilside Fortune Widebody Kitted
Performance of Mazda RX7 All done up 400ps.
Wheels:-
19″" Deep Dish Wheels + 275/35/19, 305/30/19 (worth RM20k).
Paint:-
Diamond xxx and Sparking Black
(worth RM10k).
RX7 Bodykit:-
Veilside Fortune Complete 28 pcs with Carbon front lip, Original CF Headlights with Xenon and Aftermarket LED Tail lamps.
(worth more than RM40k~).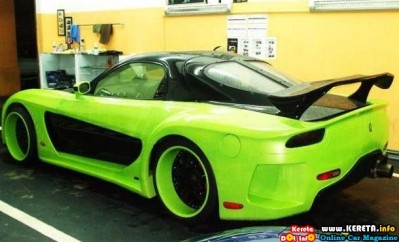 + Many more performance parts (worth more than RM40k).
Please follow and like us: