Regarding the 2009 Specialty Equipment Market Association (SEMA) Show in Las Vegas, we have made some compilation about the cars that have been unveiled in that shows.Most of them are unique and beautiful.Let's see some of the cars below.
SEMA 2009:SUBARU WRX STI TRAX: 400HP SNOW TANK.
Subaru has unveiled a 400 horsepower WRX STI with snow tracks at the SEMA Motor Show.
Based on a rally-prepped 2009 WRX STI, the TRAX was built by Vermont SportsCar for SRT USA driver Ken Block. Despite the Mattracks rubber track system, the car is virtually identical to Block's #43 SRT USA competition STI.
SEMA 2009:SUBARU LEGACY GTk – FAMILY HAULER & AUTOCROSSER.
While Block's STI TRAX is an entertaining diversion for a clothing mogul/extreme sports personality/rampant gearhead, the Subaru Legacy GTk is far-and-away our favorite concept at the Subie booth.
Based on the 2010 Legacy 2.5GT Wagon, the GTk has been designed to strike a balance between family shlepper and SCCA Solo autocross competitor, beginning with a tuned and tweaked turbocharged 2.5-liter boxer putting out 300 hp and 350 lb-ft. of torque.
SEMA 2009:EPIC CARTEL SCION tC.
This is the Epic Cartel Scion tC, a highly customized version of the Japanese-made compact coupe.  The vehicle will be on display throughout the SEMA Show.
It features both a supercharger, and limited slip differential from Toyota Racing Development, as well as side exhaust, 22×8 forged vellano rims, and Toyo tires.
SEMA 2009:TOYOTA BILLABONG ULTIMATE VENZA CONCEPT.
Toyota and Billabong have teamed up for this Ultimate Venza project. It's billed as the ideal active sports vehicle to transport passengers and their baggage to mountains, state parks and the beach. The aggressive custom body kit includes a branded exterior paint design, alloy wheels, fender flares, a custom roof rack to carry surf, snow or wake boards, and large Enkei wheels with Nitto tyres.
SEMA 2009:TOYOTA SURFRIDER CAMRY HYBRID CNG.
Toyota Motor Sales (TMS) USA sought the help of the Surfrider Foundation to convert a stock Camry Hybrid into one fuelled by compressed natural gas (CNG). CNG is abundant in the US and it's also clean as well as safe. Total system output is 170hp.
Toyota Motor Sales USA through its Toyota Corporate Accessories Department (CAD) and some aftermarket partners, is unveiling a Yaris 5-door hatch at SEMA in Las Vegas. The Hard Kandy Yaris focuses mainly on the female buyer. As such, the body paint is a mix of pink, swirling ribbons and flames.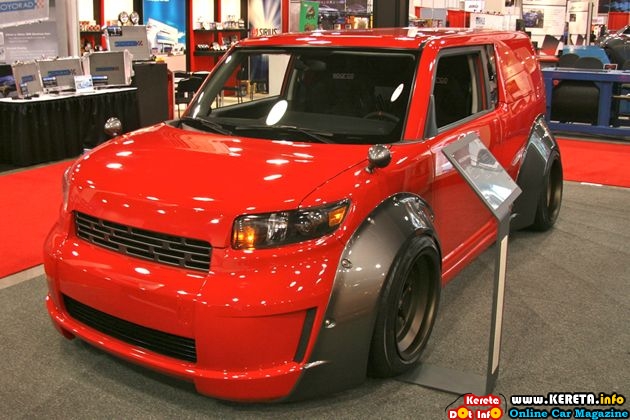 SEMA 2009:SCION xB DJ 2.0 BY FIVE AXIS.
Just like last year, Scion had a group of tuners develop a whole range of models for SEMA 2009.One of their car is the Scion xB DJ 2.0 by Five Axis . With its widened track and massive contrasting wheel arches it looked like it was ready for some Touring Car duty, but the real purpose was what lay inside: A full mobile DJ set-up.
Please follow and like us: