Expensive car fans in Malaysia now starting to look and attracted to the rare Bentley GT exclusive cars which cost more than half million Ringgit. We can see more Bentley Continental GT around us instead of regular expensive BMW and Mercedes driven by Mr Moneymaker. Here we share some of the agressive looks of Bently Continental GT with wide bodykit and customized Bently bodykit. 
CUSTOMIZED BENTLEY CONTINENTAL GT
The new Continental GT is even faster than its predecessor. With its power output raised to an immense 575PS (567bhp/423kW) and 700Nm (516lb ft) of torque. In tandem with a new six-speed Quickshift transmission, gear change times are reduced by 50 per cent, it will launch from standstill to 60mph in just 4.6 seconds and reach a top speed of 197mph (318km/h).
ASI's automotive masterpiece, the TETSU GTR, is a full custom complete car program for the Bentley Continental GT. Utilizing a super-efficient exhaust system, intensive ECU tuning, enlarged turbocharger turbines, and an improved engine coolant system, the TETSU GTR achieves a breathtaking and unprecedented 800 horsepower.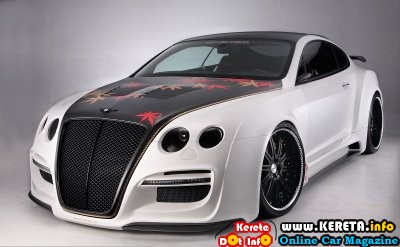 The Bentley Continental's stately appearance has also been reimagined from the ground up in order to better showcase ASI's spectacular power boost. The 2070mm wide body, long-grill exterior features LED day lights, carbon fiber lip elements and a plethora of dry carbon components (hood, roof cover, trunk lid, rear wing, rear diffuser).
With increases in power, torque and fuel efficiency; the Continental GT's engine is renowned as one of the most technologically advanced of its kind. Designed in a unique 'W' configuration, it is the most compact 12-cylinder engine in the world.
Capable of running on the latest environmentally sustainable bio-fuels thanks to its advanced FlexFuel technology, allowing it to run seamlessly on gasoline, bioethanol (E85) or any combination of the two.
Read further specification of New bentely GT below
With a 40:60 (front:rear) split power ratio, the new Continental GT feels even more poised for action and more controllable cornering. 
Technical Specification
ENGINE
Engine Capacity 5998cc
Max. Power 567bhp / 423Kw / 575PS @ 6000rpm
Max.Torque 700Nm, 516 lb-ft @ 1700rpm
Emission Level EU5 / LEV11
Fuel 98 (95) RON
DRIVELINE AND TRANSMISSION
Continuous all-wheel drive
40/60 front/rear torque split
zf 6-speed automatic transmission
with steering wheel-mounted paddleshift
PERFORMANCE
Max. Speed 198mph / 318km/h*
Acceleration 0 – 60mph 4.4 seconds*
Acceleration 0 – 100km/h 4.6 seconds*
* Power rating based on 98 RON fuel
FUEL CONSUMPTION
EU DRIVE CYCLE
Urban 11.1mpg 25.4 litres/100km*
Extra-Urban 24.9mpg 11.4 litres/100km**
Combined 17.1mpg 16.5 litres/100km**
Co2 emissions (combined) 384g/km**
EPA DRIVE CYCLE
City Driving 12 USmpg***
Highway Driving 19 USmpg***
combined 14USmpg***
**Fuel consumption figures are provisional and subject to Type Approval.
***Fuel consumption figures are provisional and subject to EPA Certification.
WEIGHTS AND VOLUMES
Kerbweight 2320kg 5115lb
Gross Vehicle Weight 2750kg 6063 lb
Boot Volume 358L 12.6cu-ft
Fuel tank capacity 90L 20 Gallons / 24 US Gallons
DIMENSIONS
Overall Length 4806mm 189.2in
Width across mirrors 2227mm 87.7in
Width with folded mirrors 1944mm 76.5in
Overall Height 1404mm 55.3in
Wheel Base 2746mm 108.1in
Please follow and like us: