Here we share another custom seat cover price list which includes various brand such as semi leather seat cover for Honda, Hyundai, BMW, Audi, Chevy, Ford, Daihatsu, Fiat and Citroen car model. For more info regarding sample and where to buy, you can view our previous post at http://kereta.info/proton-perodua-custom-seat-cover-price-list/
CUSTOM SEAT COVER PRICE LIST – HONDA HYUNDAI BMW AUDI CHEVROLET FORD DAIHATSU FIAT CITROEN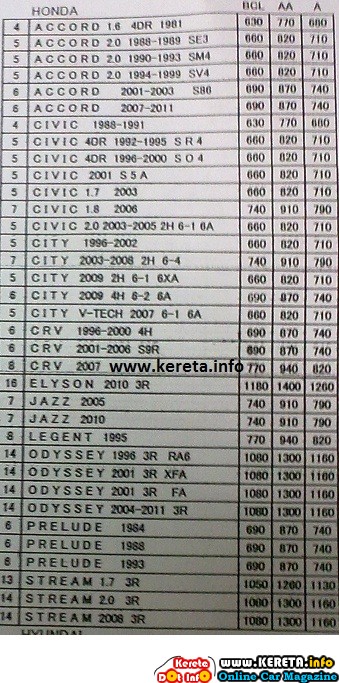 Semi leather seat cover grade BCL, AA and A price list in RM for Honda Stream, Prelude, Odyssey, Jazz, CRV, City, CIvic and Accord.
View more>>>
Price list of seat wrap semi leather high grade for BMW 3 series and 6 series, Citroen Berlingo, BX and Xantia, Chevrolet Aveo, Nabira and Optra, Daihatsu Accend, Aura, Charade, Feroza and Move and the Fiat Brava and Punto.
Price list of seat cover for Ford Fiesta, Everest, Laser, Lynx, Ranger, Telstar,  Focus, Hyundai Accend, Atos, Coupe, Elantra, Gets, Matrix, Trajet, Tucson and Sonata.
Please follow and like us: