Most of car sold here equipped with cushion for lower spec model and semi leather seat cover for high spec model. Which one do you prefer? To have better seat cover? fabric / pvc / leather? Each has it's advantage and disadvantage. Lets discuss about all info regarding price, quality and comfort of all car seat covers.
CAR SEAT COVER – FABRIC CUSHION / PVC / SEMI LEATHER / LEATHER?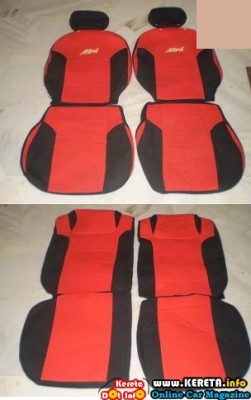 Normal fabric cushion gives better comfort in terms of cooling effect and better grip. You will rarely feel hot and no body sliding on the fabric cushion. The price for new design seat cover with fabric materials is the cheapest which is around RM50-200 only. But it has less quality and not so good design. The fabric materials also easy to trap dirt and hard to clean it off.
Quality fabric seat cover materials using Recaro or Bride fabric is an alternative for seat cover material. The price depends on how much material you use. For example RM140 for 1 meter Recaro fabric wrap on your seat.
PVC materials used for car seat cushion covers (pembalut kerusi kereta) mainly for better looks purpose only. It express a leather look alike car seat but with lower quality. The main problem with PVC material is thermal effect. It fails to absorb heat. It traps heat on the surface of the material and transfer to your body. You will feel uncomfortable with the hot temperature and less grip. The price for this type of cushion seat cover is around RM300-500 only.
Semi leather or artificial leather is a better solution for those who wants a comfortable seat covers, good design with low cost. It absorbs heat better than PVC and gives some grip to your body. The semi leather will costs around RM700-1200 for all seat cover installation.
Full leather seat cover is the most expensive type of seat cover. The price of leather seat cover will be around RM2000. It gives best heat absorbtion, grip and comfort. For those who have the money, this is the worth solution for you. Seat wrap with leather usually available at certain high quality upholstery shop.
Please follow and like us: