The Toyota Yaris Hybrid will make its world debut at the 2012 Geneva Motor Show. It combines the ingenious packaging and urban agility of the Yaris model range with the unique driving experience and efficiency of Toyota's full hybrid powertrain, Hybrid Synergy Drive (HSD). The new Toyota Yaris Hybrid launch marks a new, major step in the company's full hybrid roll-out strategy to Toyota core models in Europe.
2013 TOYOTA YARIS HYBRID
The Yaris is Toyota's best-selling core model, with the largest 'Unit in Operation' fleet on European roads. Following the launch of the Auris Hybrid back in 2010, the Yaris Hybrid is Toyota's second core model to feature Full Hybrid technology, and brings this remarkable powertrain to the biggest volume segment in Europe.
The new flagship of the Yaris model range, the Toyota Yaris Hybrid features an exclusive, aerodynamically efficient exterior design. Featuring the new design face of the Toyota brand, it combines a new, more assertive Under Priority trapezoid opening frontal design element with the Keen Look design implemented on the front lamps.The Toyota Yaris Hybrid features the first downsizing of Toyota's HSD powertrain. Combining a new, 1.5 litre petrol engine with a lighter, more compact electric motor, transaxle, inverter and battery pack, the new system is 20% lighter than that of an Auris Hybrid.
With air conditioning and automatic transmission installed as standard, this high level of efficiency does not mean that customers have to compromise on comfort to achieve class-leading emissions.Combining striking design, urban agility, functionality and segment-best packaging with the innovation, efficiency and environmental credentials of Toyota's full hybrid technology, it represents the most advanced Yaris yet by Toyota.
2012 LINCOLN MKZ CONCEPT
The Lincoln MKZ Concept, revealed at the 2012 North American International Auto Show in Detroit, signals a significant step in Lincoln's reinvention, providing a clear vision of its next-generation vehicles.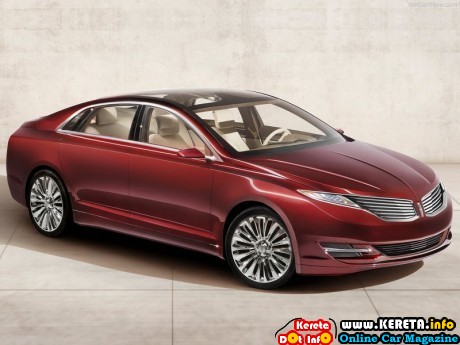 Warm hues are evident in every aspect of the new vehicle's Cognac-colored exterior. The deep finish is achieved with a rich base coat covered in multiple layers of tinted clear-coat finishes.By retaining key, recognizable brand design elements, the Lincoln MKZ Concept remains clearly identifiable as a Lincoln. One example is the more refined interpretation of the split-wing grille, introduced on the 1938 Lincoln-Zephyr.
The sedan's profile is dominated by a long, sleek and sweeping roofline that allows the design to break away from the traditional sedan three-box shape. The lengthening of the roofline enables a more flowing, elegant and more naturally aerodynamic appearance.
The Lincoln MKZ Concept is a styling study that rides on an all-new midsize platform. The sedan is capable of utilizing multiple powertrain options in front wheel drive and all wheel drive configurations.Like the recently introduced MKS and MKT with EcoBoost , the Lincoln MKZ Concept features Lincoln Drive Control and the sophisticated Continuously Controlled Damping (CCD) adjustable suspension.
Please follow and like us: