2012 ROLLS-ROYCE GHOST EXTENDED WHEELBASE
Rolls-Royce Ghost Extended Wheelbase ultra-luxury saloon caters for customers who require increased space and comfort without sacrificing Ghost's unique balance of dynamism and poise.
Designed as a vision of simplicity, it is a Rolls-Royce that drives and rides in peerless fashion. Rolls-Royce Ghost Extended Wheelbase takes this principle further, designed as a car to drive or in which to be chauffeured. It will be built to order and is available in only limited numbers for 2011 until full production begins in 2012.
The interior space is further enhanced in the Extended Wheelbase variant by the addition of 170mm to the car's wheelbase, but with no detriment to the model's balanced proportions and stunning contemporary design. Legroom is significantly enhanced with knee-room more than doubled compared to the standard Ghost. Increased cabin space in the rear passenger compartment and a panoramic sunroof sets new standards for interior ambience and light. Effortless entry and exit for passengers further reinforces Rolls-Royce Motor Cars' pinnacle position in the ultra-luxury segment.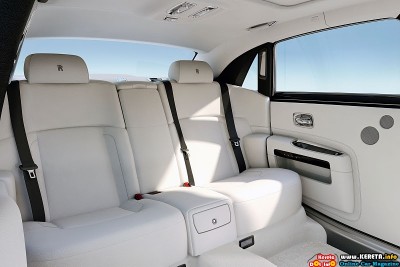 2012 Rolls-Royce Ghost Extended Wheelbase powered by 6.6 litre twin turbo charged V12 engine which produces an effortless 563hp and 780Nm of torque at just 1,500rpm, Rolls-Royce Ghost Extended Wheelbase accelerates from 0-100km/h in just five seconds. An intelligent, four corner air suspension maintains a perfect balance between ride and handling.
2011 SUBARU XV CONCEPT
Subaru's design concept car that defines a new generation of crossover vehicle, called XV. The key design concept is "Protren". This word was coined from "Professional tool" and "Trendy design". It expresses the integration of "authentic functionality as a professional tool" and "urban and stylish design".
To better embody the "Protren" theme, the wheel arch cladding offers the image of functionality, playful touch and driving excitement, which is further enhanced with the black metallic highlights.
The exterior of the vehicle is splashed in riveting "Electro Yellowgreen", resulting in a gleaming tinge seemingly emanating from beneath the matte finish. The color embodies electrifying performance, and above all excitement, to round off a tasteful, and at times potent, package.
Styling exterior contemporary looks and electrifying lines are guaranteed to turn heads, as its body exhibits the very solid, dynamic and independent styling so characteristic of all Subaru's. At the very front of the vehicle are standard design elements that are common to the Subaru stable, including the hexagon grille, winged motif and sharply- and solidly-designed hawk-eye headlights.
Please follow and like us: