Now, fuel price is getting increase from time to time. But we just only don't know when is the time. Is it next month, next year or anytime. Therefore some of car maker concentrate on this small city driving type. In a metropolitan city or town it is ideal and practical to use this type of car.
2011 HONDA SMALL CAR CONCEPT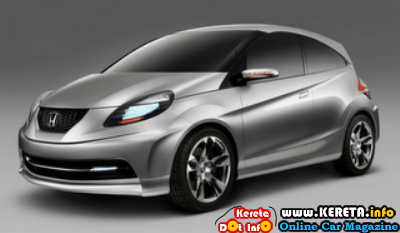 These are the first official images (more pictures at the end of this post)of the 2011 Honda Small Car Concept just shortly unveiled at the Auto Expo 2010 in India. Production version will be launched  initially in Thailand and India by 2011, Honda executive vice president Koichi Kondo said at the Delhi event.
Honda promises a vehicle that is "beyond the expectations of customers in rapidly growing markets and offer it at an affordable price by leveraging Honda's global parts sourcing network". The company calls the concept's design "Efficient Energetic Exterior".
2011 SEAT SMALL CAR CONCEPT
Seat announced they will launch a new ultra-small city car by 2011 based on the forthcoming Volkswagen Up. Seat didn't announced a name for the future car, but they announced it will be a successor to the Arosa.
Seat plans to unveil expand the corporate portfolio to up to 40 models within the next decade, and the new car will be part of this dramatic model-range expansion. This plans also includes: the new Bolero saloon, based on the previous-generation Audi A4, and the forthcoming Tribu compact SUV.
The microcar will undercut the Volkswagen Up! in price – an impressive achievement considering VW's stated aim of pricing the base Up! at around €6000 when it goes on sale in Europe.
2011 TOYOTA SMALL CAR CONCEPT
It has been fitted with puny engines, including a 1.0-liter I-3, a 99-horsepower 1.3-liter I-4 and a 1.4-liter diesel, although up to 1.6-liters will fit, Nakajima-san says. A mileage-enhancing stop-start system is already fitted to 1.4-liter versions. The iQ is not a cheap car, selling in Europe for similar prices to the Yaris. It's a design-led premium car for the city-center early adopter, but following criticism that the iQ's cabin plastics are insufficiently premium, they are in for redesign.
The iQ was also the basis for the Toyota FT-EV concept, an "urban commuter battery-electric vehicle," which Toyota has confirmed for production beginning calendar year 2012. Target is a minimum 50-mile range on an eight-hour recharge. Nakajima wants to use lithium-ion, but Toyota still uses nickel metal hydride packs for hybrids for reliability and durability.
The traction motor and power electronics will be packaged under the hood, while the battery pack will replace the gasoline car's ultra-slim under-floor fuel tank. Maximum weight of the BEV will be 2600 pounds, the practical limit for the iQ platform. Hybrid drive would be too expensive and hard to package in a car so small.
Please follow and like us: