2011 HYUNDAI i10 BLUE-ON
Hyundai revealed its first production-ready full electric car named "Blueon". Based on the firm's small i10 hatchback, the BlueOn was developed over a one year period.
Powered by an electric motor producing 61kW (82HP) and maximum torque of 210Nm. Energy is drawn from a 16.4 kWh LiPoly (lithium-ion polymer) battery pack, which offers a driving range of 140 km (87 miles) on a single charge.
Hyundai i10 BlueOn can accelerate from standstill to 100km/h (62mph) in 13.1 seconds and reach a top speed of 130km/h (81mph).
The BlueOn is equipped with features a Virtual Engine Sound System (VESS), which creates an artificial sound for the safety of pedestrians when driving at low speeds.
2010 CHEVROLET CAPTIVA SUV
2011 Chevrolet Captiva SUV with sporting a new front end design, a range of enhancements to the interior and new engines and transmissions.
Passengers will enjoy their audio experience all the more thanks to improved acoustic engineering resulting in reduced road, wind and engine noise. The new Chevrolet Captiva's audio system includes Aux-in, USB-port and Bluetooth connectivity and touch-screen navigation system with rear view camera for parking assistance.
Exterior, a new larger grille with its dual-opening and the Chevrolet 'bow-tie' sited proudly in the middle and the prism style headlamps and integrated LED turn signals on the outside rearview mirrors.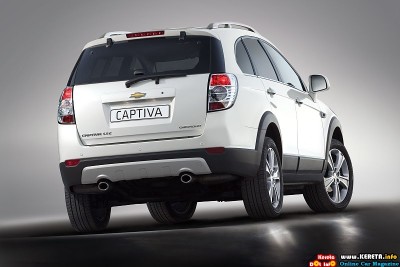 The Chevrolet Captiva SUV provides a high level of safety, stability Control (ESC), Traction Control System (TCS) and Braking Assist System (BAS) standard, as well as front-, side- and curtain airbags
The new engine line-up, which is comprised of two gasoline engines (2.4L and 3.0L) and two turbo-diesel variants (2.2L), incorporates a host of advanced technologies aimed at delivering an optimal balance of performance and fuel economy.
With the introduction of a new 3.0 liter 258 hp V6 gasoline engine with direct injection and variable valve timing, the Captiva will be one of the most powerful compact SUVs on the market, while the new 2.2 liter common rail turbo-charged diesel units will be available with either 163 or 184 hp outputs. Rounding off the new line-up is a 2.4 liter dual overhead cam gasoline unit with variable valve timing, rated at 171 hp. Both, the 2.2 liter turbo-diesels as well as the 2.4 liter gasoline engine can be ordered in front- or all-wheel-drive configurations.
Please follow and like us: